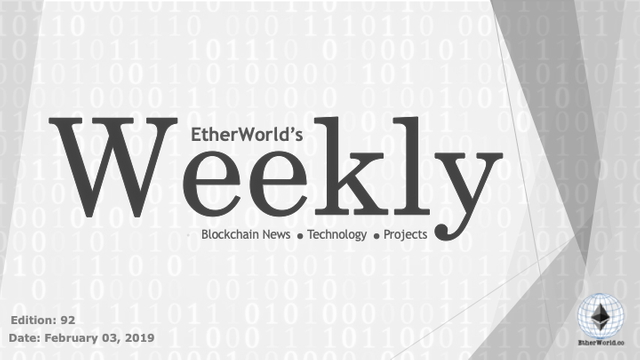 (Blockchain Weekly Recap)
News
Security Alert!!!
Update Parity Ethereum nodes when new releases are out; node attack vector discovered.
World news
Fidelity Is Said to Plan March Launch of Bitcoin Custody Service. Service may help institutional investors ease into crypto.
A new Harry Potter–themed cryptocurrency is like a more private version of Bitcoin
GERMANY'S SECOND-LARGEST EXCHANGE LAUNCHES REGULATED CRYPTOCURRENCY-TRADING APP
Iran Has Launched a Gold-Backed Cryptocurrency 'Peyman' in Effort to Avoid US Sanctions. Bitcoin (BTC) ban lifted as Iran's Central Bank issues new draft rules on cryptocurrency
Rate 3 introduces cross-chain swaps between Stellar and Ethereum on testnet.
A Bitcoin-Backed Stablecoin Wrapped Bitcoin (WBTC) Has Launched on the Ethereum Blockchain. WBTC delivers the power of Bitcoin with the flexibility of an ERC20 token.
CoinGate introduced DAI stablecoin payments for merchants.
Canadian cryptocurrency exchange QuadrigaCX loses access to its wallets.
Cryptos Would Only Have Value in 'Dystopian' Economy: JPMorgan
A Hacker (20-year-old college student) Who Stole $5 Million By SIM Swapping Gets 10 Years in Prison.
Ethereum News
Other blockchain News
Technology
Projects
New Projects and Protocols
Project and Protocol updates
Status: Founding a Company with the Stable Coin DAI. Announcing the Statusphere Ambassadors
2M ETH locked in MakerDAO
Announcing TokenCard Visa® Debit Cards: Soon™ Step 2 Completed! ✅ TokenCard users convert tokens from their wallet to fiat (GBP/EUR) to load their debit card, which can then be used for standard transactions online or offline just as with any other debit or credit card anywhere Visa is accepted.
Bounties Network is partnerning with UNICEF and ETHDenver to prototype a new "positive action token".
Kyber network WBTC Is Now Live On Ethereum.
Aragon comes back to the desktop, launches a desktop app.
Miscellaneous
Print, Video, Podcast & Interviews
Coinbase Speaker Series: Eli Ben Sasson Co-founder & Chief Scientist (East) of StarkWare and Founding Scientist of ZCash. Alex Gladstein, Chief Strategy Officer of the Human Rights Foundation, and Alejandro Machado of the Open Money Initiative to talk Crypto and use cases in developing countries.
How blockchain can fight plastic pollution. Joe Lubin on CNN
Chris Dixon on Ethereum: "To me, Ethereum is the most important technology of the decade, for sure. I don't even think it's going to be questionable."
Peer to Peer funding platform built on Tezos. Interview with CEO of Viaz.io Peter Meronek
AraCon 2019 Videos
ATMarketplace App store walkthrough video series #1
Blockchain good reads
EtherWorld's collection of Good Read on Blockchain & CryptocurrencyJobs and Vacancies
Hackathon, Conferences, Events & Developer programs (Event Calendar)
This newsletter is an effort to bring updates of blockchain world. If you like it, please share with people of similar interest.
This is originally published at EtherWorld.co.
______________________________________________________________________________
Disclaimer: This is not an investment advice and should NOT be viewed as project endorsement by EtherWorld. Readers are suggested to do their research before investing into any project.Follow us at Twitter, Facebook, Google+, Medium and Steemit.