Crypto Crash... And Vitalik Buterin Death Hoax Brings To Light Risks In Ethereum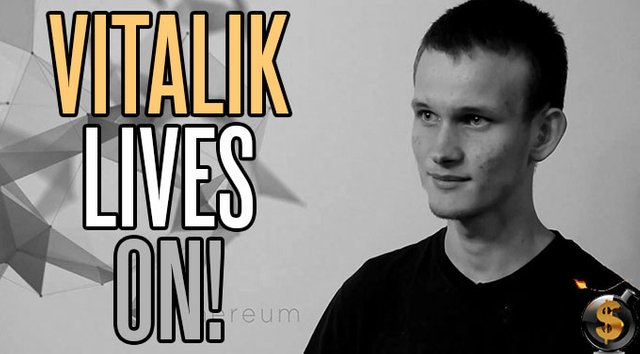 Both Ed Bugos and I have been telling subscribers to take profits on the cryptocurrencies in the last few weeks as we felt they were well overbought.
I've even made mention of it in public numerous times and did so again in this most recent interview I did with World Alternative Media on June 23rd.
In that interview I warned that "Ethereum has a lot of problems" and Ethereum has since fallen more than $100.
It wasn't the only one though. Of all the cryptocurrencies in the top 50 everything was deeply in the red. Only one had a minor 0.17% gain today. Something called MCAP, whatever the hell that is.

I like Ethereum a lot… and even recommended it to subscribers in 2016 at $2. But felt it had gone too high, too quickly considering some of the issues with it.
Like, for example, that Ethereum's future still rests on a relatively small number of people.
The creator of bitcoin is Satoshi Nakamoto and it is still unknown who he really is. But, it isn't important, because bitcoin is open source code and there are now hundreds of coders who work on the bitcoin code. So, there isn't any particular person who could have problems and cause problems for bitcoin.
The same can't be said for Ethereum. Or, at least the market thinks so.
While there are a few key people involved in Ethereum the market really sees just one man as being the man who makes things happen, Vitalik Buterin. This comes despite the fact that many believe it was actually a former Microsoft research scientist named Gavin Wood who wrote "100% of the code" for the currency, according to an early investor in both Ethereum and bitcoin, Brock Pierce.
And we saw just how important the market considers him when Ethereum sold off by a large amount on the rumor that Vitalik Buterin was killed in a car accident.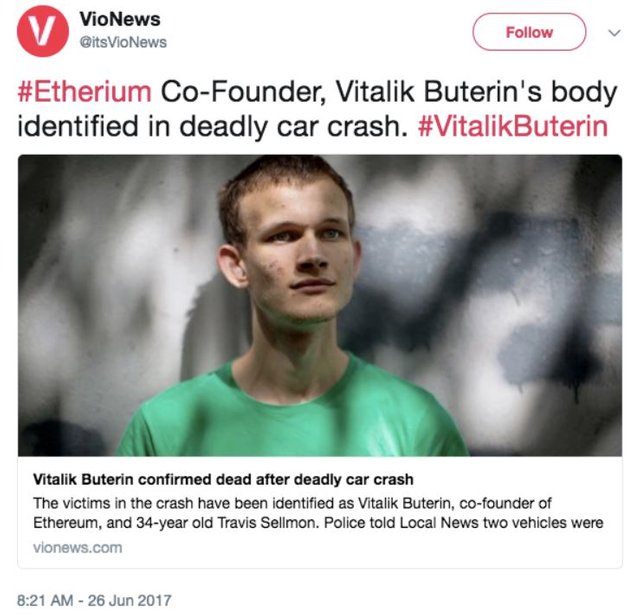 The news of Vitalik's supposed death appeared on 4chan's /biz/ thread at 4:30PM EST on 25th June. The poster cited another post on a Slack channel. Although the header read "Vitalik Buterin confirmed dead" the post provided zero evidence nor links.

Vitalik lives in Singapore and when this all happened it was of course still quite early in the morning in Southeast Asia, which allowed for rumors to brew for several hour before a response came from Vitalik indicating that he was still in fact alive. To prove that he hadn't died he took this time stamp with the most recent ETH block: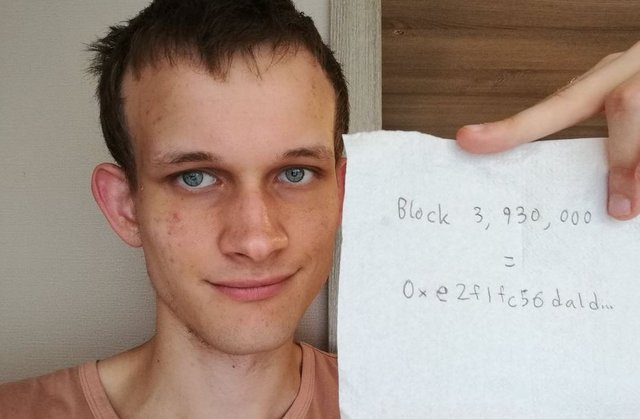 He was looking a little rough though. Maybe a few dozen less Red Bulls per day, Vitalik.
Nevertheless, this ordeal still resulted in a panic selloff which probably wasn't helped by last week's incident with heavy network congestion and two ICOs that resulted in massive volatility and a major sell order of (96,100 ETH) on the GDAX exchange which triggered stop-loss orders and margin positions and resulted in a flash crash which momentarily caused the value of Ethereum to plummet as low as $0.10!
While things like this can happen from time to time it does beg the question about just how liquid the ETH market is and if it can withstand a major selloff without falling from $400 to $0.10 in a few seconds!
An additional incident that really caused skepticism among Ethereum investors was the DAO hack. DAO stands for "Decentralized Autonomous Organization" and it was meant to operate like a venture capital crowd fund, however, a flaw in the platform which was built over the Ethereum network allowed a hacker to siphon nearly $70 million worth of tokens out of the fund.
While this was not a problem inherent in the framework of Ethereum itself, it still added a "guilty by association" shroud of skepticism to the currency.
In light of this problem with the DAO application built on top of the Ethereum network, the Ethereum community quickly began coming up with solutions. Ultimately, they decided upon a fork. At first, in an effort to prevent the hacker from cashing in the Ether from his child DAO after the standard 28 days, it was voted that a soft-fork would be introduced. However, several hours before it was supposed to be utilized, several members of the community found a bug with the implementation that could open a denial-of-service attack vector.
Thus, alternatively, a hard fork was ultimately agreed upon by 89% of the community to be the next best solution and consequently Ethereum Classic was born which is why we have two Ethereum currencies many know of today.
But, this fork was more or less decided upon by Vitalik Buterin himself, showing just how centralized the currency is… which is another reason to have some concern about it.
With all the upside Ethereum saw before these two most recent panics, ETH was bound to have a major correction one way or another. Just look at the growth it has had over the past two years: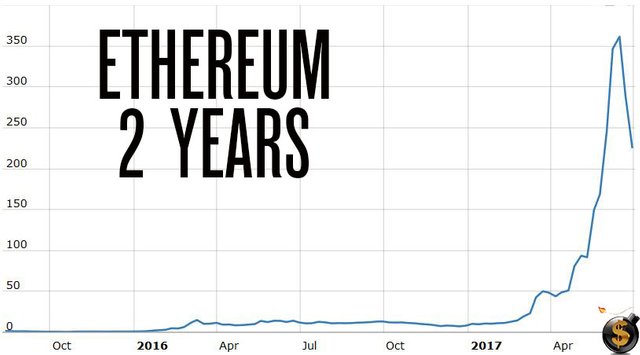 If there is any other asset in the world that has even come close to Ethereum's gains in the last two years I haven't heard about it.
In fact, the entire cryptocurrency space was badly in need of a pullback. It's just healthy after such massive gains.
This week we'll be releasing our June issue of The Dollar Vigilante newsletter to subscribers. We told them to take profits on cryptocurrencies over the last few weeks and many will be wondering at what price we think may be a good time to buy back in.
If you'd like to get access to that information, click HERE.
If you've yet to get into cryptocurrencies then this is the pullback you have been waiting for. If you still want to learn more check out my free 4 video webinar which tells of the importance of cryptocurrencies and even offers to send you your first $50 in bitcoin if you accept our offer.
You can check that out HERE.
This isn't the end for cryptocurrencies. It's just a very healthy pullback after a massive runup. Vitalik isn't dead and cryptos aren't either.
Stay tuned here at The Dollar Vigilante, where we have been covering the cryptospace unlike any other since 2011.