How to Migrate Sai to Dai on Ledger Nano S, X & Blue [GUIDE]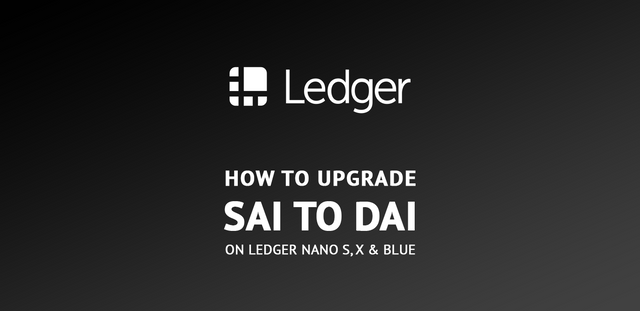 Released on 18th November, 2019, the Multi-Collateral DAI (MCD) is the latest MakerDao's upgrade on the market. It comes with a few name modifications, numerous security upgrades, and additional features.
The old Single-Collateral token has been renamed SAI. The formerly Collateral Debt Positions (CDPs) has been renamed to Vaults. While the newest Multi-Collateral upgraded token is now called DAI.
The newest Multi-Collateral protocol sustains additional crypto assets, which consist of ETH and BAT. More tokens will be availed the moment the Maker community vote is finalized.
Through DAI Savings Rate (DSR), DAI token holders are able to quickly earn interests on their funds and at zero cost. The interest earned comes from stability charges paid by borrowers who use Vaults to secure loans.
There are no plans to make any updates on the old Single-Collateral Protocol. Instead, MakerDao decided to discontinue it completely on May 12th, 2020.
If you are still holding SAI on your Ledger Nano S, X or Blue, It is necessary to upgrade your SAI tokens to the newest Multi-Collateral DAI because the former system is now phased out.
How to Convert Sai to Dai held on Ledger Nano S, X or Blue:
Connect your Ledger to MetaMask browser extension, available on Chrome, Brave, Opera or Firefox
Go to the Maker's SAI to ETH Redemption Portal and Connect with MetaMask
Enter the amount of SAI to redeem back to ETH and submit your transaction and approve it on your Ledger.
After the transaction is confirmed, the ETH will appear in your wallet, accessible by Metamask or Ledger Live.
Use the ETH to purchase the new Multi-collateral Dai on an exchange.
About Ledger Wallets
The Ledger hardware wallet is a commonly used type of wallet that stores the user's private keys in a secure hardware device. The private keys themselves form the basis of controlling the authorization of transactions using cryptocurrency and are essential to maintaining their security.
The main purpose of using a Ledger hardware wallet is bridge the gap between those private keys and your easy-to-hack devices meaning that anyone that manages to get through your basic device security will then be faced with extra layers of security which prevents their access to the crypto-currency.
The key itself is exclusive to the user and its identity is never exposed. They are encircled by stringent layers of protection such as a secure chip locked with a pin code. This kind of technology is generally viewed to be so secure that it is the same kind of technology found in passports, so you can be rest assure nobody is getting in!
Ledger wallets are themselves, fully certified by French cyber-security agency ANSSI, making them an obvious choice when it comes to protecting your online currency.
The wallet itself supports over 1100 different types of cryptocurrencies, meaning that serious investors can manage multiple different types simultaneously using one of these wallets.
The cryptocurrency industry is is far away from reaching maturity and it's full potential, and the number of users who choose to store their funds outside exchanges is increasing as many exchanges have proven to be unreliable and are constantly being hacked.
Estimations want best for cryptocurrency marketplaces and adoption within the next five years. This will significantly impact the hardware finances market development. Research and Marketplaces foresees a substance twelve-monthly development rate (CAGR) of 24.93% between 2020 and 2025 and it is predicting the hardware wallet to become $780 Million dollar market by 2025 with the increased adoption of crypto increasing for wallets such as Ledger.