What is an oligopoly?


An oligopoly is a market form in which a market or industry is dominated  by a small number of sellers. Oligopolies can result from various forms  of collusion which reduce competition and lead to higher prices for  consumers. Oligopoly has its own market structure.


Vlad Zamfir: "When miners become more powerful, everyone else gets less of a say."



The definition above taken from Wikipedia gives a simple description of what an oligopoly is. We can see in Bitcoin that oligopolistic competition is taking place between mining cartels, Core developers, and users. In Bitcoin the users are the least powerful and are treated as the least important. Developers and miners have nothing to lose by ignoring the preferences of the users and the users have no way to vote besides switching clients. Yes it is true that miners can be users, developers can be users, but the point is that both miners and developers form clubs and become interest groups with great power over the evolution of the Bitcoin network. Bitcoin can never change it's SHA-256 algorithm because to do so could upset companies like Bitfury.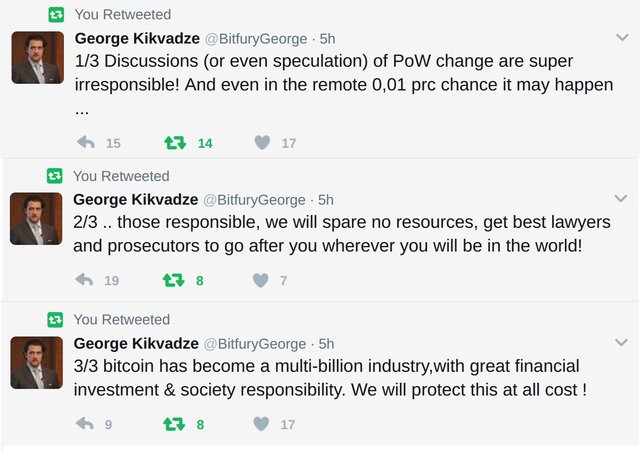 https://twitter.com/VladZamfir/status/843552270784614402





Vlad Zamfir: "The increase in the price of block rewards means that miners will have much more incentive and ability to devote resources to participating in governance."



As we can see from the example by Bitfury, the economic interests of the miners are not always aligned with the security of the Bitcoin network. Could the same be said about developers as well? I think this example is evidence that Vlad's hypothesis is correct as Vlad predicted this exact reaction. This indicates at least to me that he is on the right track designing Casper and at this point in time I have to say he's ahead of the game.

Pure hash power does not indicate security if you prioritize decentralization. A blockchain which appears decentralized to outsiders but which is controlled by clubs, cartels, groups, who have interests which aren't aligned with the best interest of the community itself, would be an oligopolistic competition and in many cases this can result in lack of progress, broken governance, slow adaptation, and failure.



Every blockchain has a corresponding ecosystem. It is this community's responsibility to make sure that the blockchain lives up to its promise. The ecosystem has to guarantee the blockchain's security assumptions (e.g. 51% of miners are honest) and it has to upgrade the blockchain (to make it scalable, secure, usable).If it fails to achieve either of these goals, it's going to have a bad time.



The increased security from increased block rewards (if there even is such a thing in practice) does not justify the ecosystemic risk of making miners a more important part of the community.Remember, the more powerful miners become, the less of a say you have.





References
1. https://twitter.com/VladZamfir/status/843552270784614402
2. https://twitter.com/petertoddbtc/status/843448818259709952
3. https://twitter.com/VladZamfir/status/843445814420783105 
4., https://medium.com/@Vlad_Zamfir/the-case-for-smaller-block-rewards-fb0eab38e15c#.ei1pxakzd