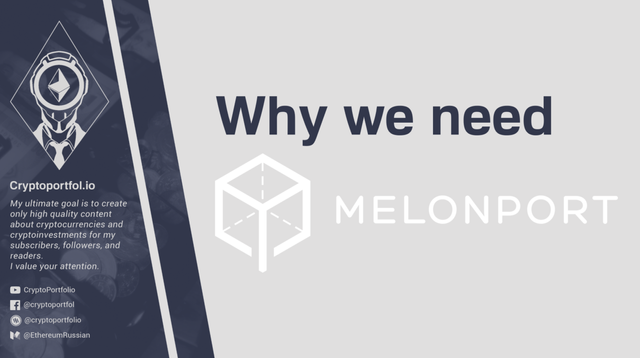 Melonport is the project which I supported before it collected funds during its ICO campaign. The reason? I believe that Mona El Isa, the CEO of Melonport, found the true goldmine! She has strong background in financial sphere and she understands the main problems of investment funds industry.
Did you know that you need tens of millions of dollars to simply set up your own fund? And if you are an investor, that you have to pay enormous management and performance fees to take part in the portfolio of good hedge funds? Considering amount of money which is concentrated on the hedge funds market and the massive amount of work done by Mona El Isa and her team ( BTW, check their blog and Github), I believe that Melonport will soon become a very important project in the sphere of cryptocurrencies.
Let's get back to the main question of this short presentation. Why do we need Melonport? I will tell you why!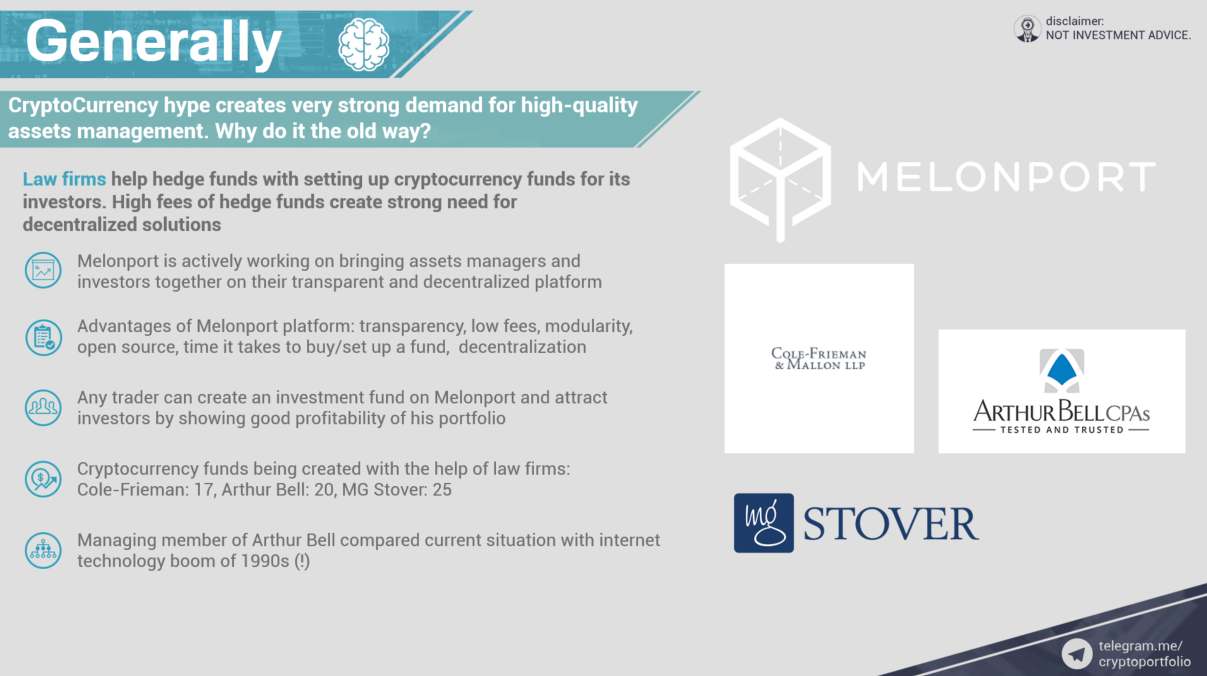 CryptoCurrency hype right now creates very strong demand for high-quality assets management. But why should we do it the old way?
Due to the high demand from US investors, the Law firms now help hedge funds with setting up cryptocurrency funds. But the high fees of hedge funds create strong need for decentralized solutions with much more comfortable rates.
Melonport is actively working on bringing assets managers and investors together on their transparent and decentralized platform. And I cannot stress enough how professional the whole team is. Instead of going around and pumping its MELON tokens, they actually get the job done by programming and communicating with partners of the project. BTW, Melonport is partnered with Parity, ValidityLabs, Microsoft BizSpark, Oraclize, CryptoCompare, and 0x project.
Advantages of Melonport platform include: transparency (you can see the performance of all portfolios on Melonport and decide where to put your money), low fees (especially if we compare with regular hedge funds), modularity (where portfolio creators can decide which modules to use), open source (check their GitHub), time it takes to buy/set up a fund (you can avoid the painful process of registering your fund and get it going), decentralization (everything is built using Ethereum blockchain and the underlying technologies of this chain).
Any trader can create an investment fund on Melonport and attract investors by showing good profitability of his portfolio. This surely will bring down the barriers and many more talented traders will participate in managing your money on this platform.
All this CryptoCurrency madness has attracted a lot of investors from all over the USA. So that cryptocurrency funds being created with the help of law firms: Cole-Frieman helps right now with 17, Arthur Bell with 20, MG Stover with 25. I think that soon all the cryptocurrency investors who are interested in outsourcing money management will switch to using decentralized blockchain solutions rather than old hedge funds structures.
It is also interesting to note that managing member of Arthur Bell compared current situation with internet technology boom of 1990s (!). So be careful while investing, and do not let another bubble crush your 401k.