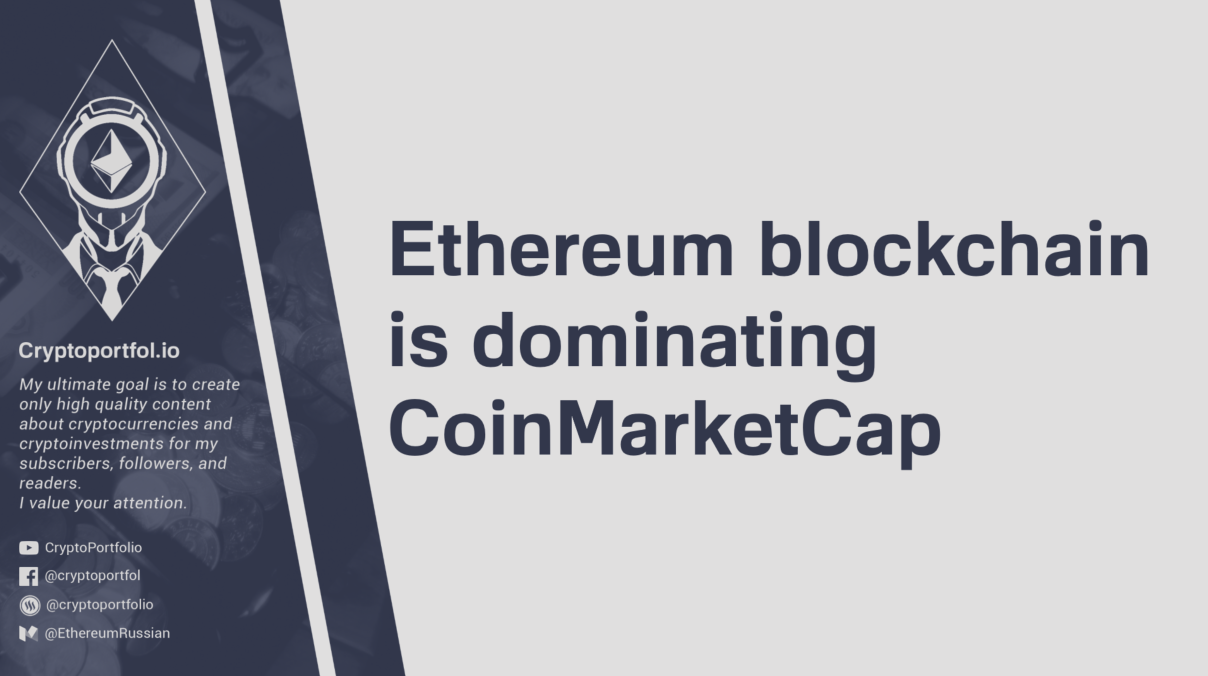 I am Ethereum maximalist and today I want to discuss the growing importance of Ethereum-based assets in the ecosystem. With the available data on CoinMarketCap I made a comparison of Cryptocurrency platforms in terms of trade volume, market capitalization, number of cryptoassets. By the way, CryptoAsset is a currency or token that depends on a cryptocurrency as a platform to operate. As an example, I can give you Melonport, which is based on Ethereum blockchain. In order to operate, it doesn't need its own nodes or anything like that.
There are multiple advantages of not having to own blockchain for the cryptoasset. One of the most vital advantages is that the blockchain project doesn't need to create its own infrastructure, because it can use already existing one. It is not super hard to build its own blockchain, but it is quite hard to support its continuous existence. And that's where the usage of platforms is beneficial for projects.
I noticed some interesting things about Ubiq, which is a fork of Ethereum, instead of whining about DAO debacle (like ETC), they actually put their effort into creating a strong competitor to Ethereum. Right now, Ubiq platform has CryptoAssets which have much bigger valuation and trade volume than Ethereum Classic's assets. Let me make it perfectly clear here, while having strong assets, Ubiq's valuation is times lower than Ethereum Classic. That's fascinating, because I can see the market irrationality in this fact.
All right , let's start our journey into the depths of CryptoAssets market.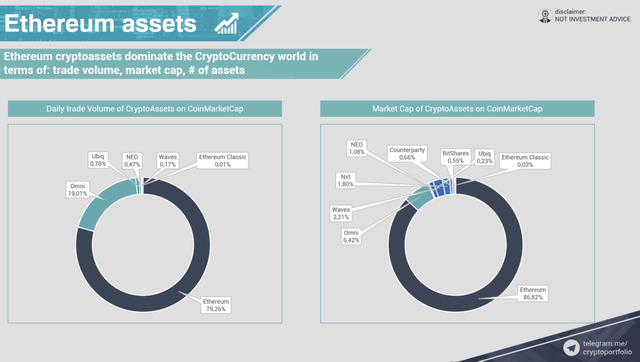 Ethereum cryptoassets dominate the CryptoCurrency world in terms of: trade volume, market cap, # of assets. What about the concrete numbers?
Ethereum assets occupy 79% of daily trade volume on all exchanges, while Omni assets take second place with 19% of daily trade volume of CryptoAssets. Other blockchains are not that interesting in terms of trade, here I can only mention Ubiq with almost 1% of daily trade volume. Ethereum Classic assets (which include only inPay) occupy only 0,01% of all CryptoAssets trades.
What can I say about the capitalization of CryptoAssets? Ethereum-based assets take almost 87% of market capitalization, while Omni assets take 6,42%, Waves 2,21%, NXT 1,8%, NEO 1,08%, and others take less than 1% of total market capitalization of CryptoAssets. It is interesting to note that even though Ubiq assets have more trade volume, the CryptoAssets of this blockchain are less valued.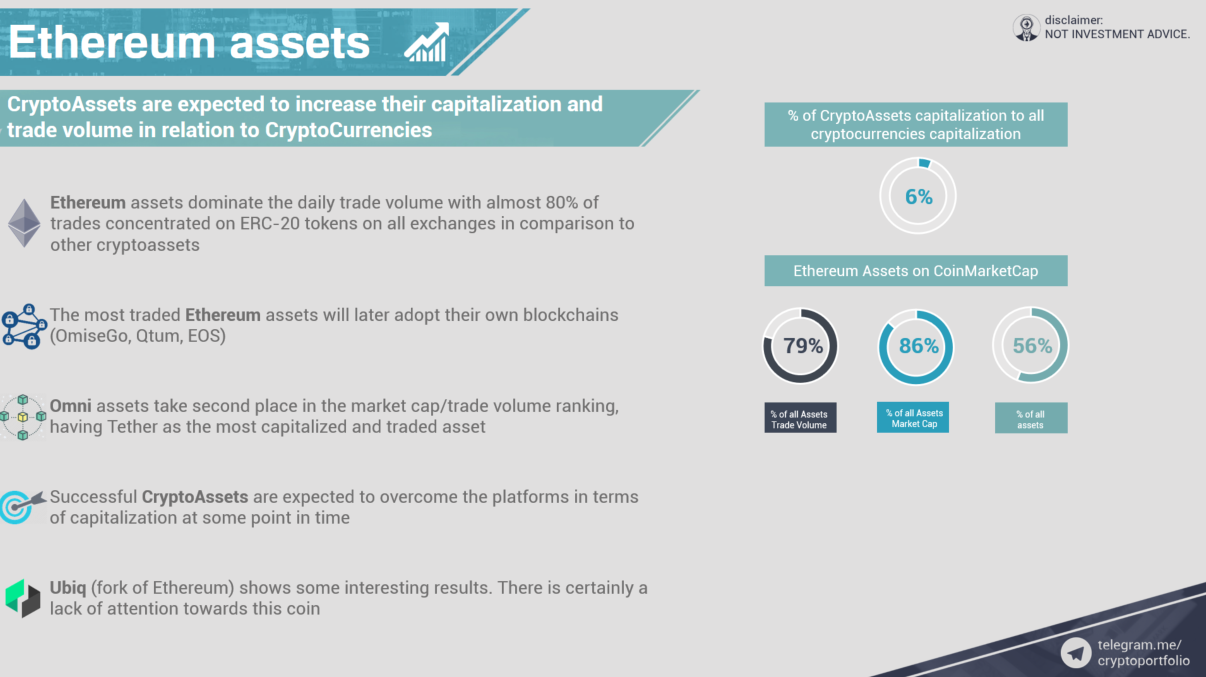 Let's explore the general numbers of CryptoAssets market a little bit.
6 % is CryptoAssets capitalization to all cryptocurrencies capitalization. I expect that to change.
Ethereum Assets on CoinmarketCap occupy 79% of trade volume, 86% of market cap, and 56% in terms of number of projects.
Ethereum assets dominate the daily trade volume with almost 80% of trades concentrated on ERC-20 tokens on all exchanges in comparison to other CryptoAssets. It looks like the influence of Ethereum on this market is going to grow. This blockchain is the most preferred one due to its reliability, smart contracts, and popularity.
The most traded Ethereum assets will later adopt their own blockchains (OmiseGo, Qtum, EOS). I will cover it a little bit more on the next slide.
Omni assets take second place in the market cap/trade volume ranking, having Tether as the most capitalized and traded asset. Omni is not very popular blockchain, so only old projects exist on it. It seems like the significance of Omni assets is going to decline in the future.
In my humble opinion, successful CryptoAssets are expected to overcome the platforms in terms of capitalization at some point in time. Like Magnit, the retail company in Russia, costs more than the exchange where it is traded. BUT! Ethereum is also a currency, so maybe CryptoAssets will not be able to overcome Ethereum capitalization.
Ubiq (fork of Ethereum) shows some interesting results and dynamic development. There is certainly a lack of attention towards this coin. Especially when the fork of Ethereum, Ethereum classic, not having any significant projects on its blockchain, has more valuation than Ubiq. And Ubiq has projects which are actively traded and quite highly valued in comparison to Ethereum classic assets.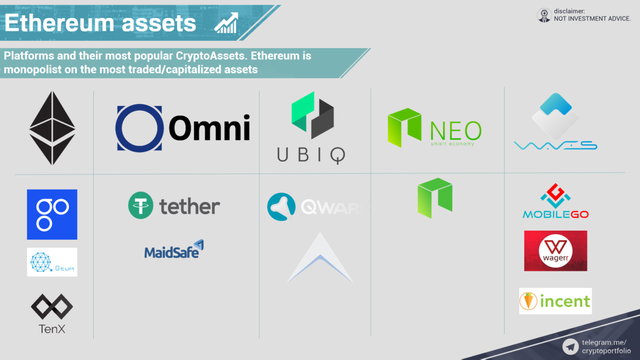 Here I would like to show the most valued projects on different blockchains.
Ethereum has OmiseGo, Qtum, and Tenx. OmiseGo and Qtum are assets which are going to be converted later into other blockchains (And EOS is another example), but Ethereum is still a monopolist in terms of projects which are going to be completely reliant on it in the future. For example, Status, Melonport, Augur, Tenx, Gnosis, Basic Attention Token, and others.
Omni has two very popular assets. Tether and Maidsafe. Tether is basically a USD-pegged coin, but it has flows in it, for example, lack of liquidity in dollars to support its supply of coins. Maidsafe is decentralized storage solution.
Ubiq has two coins which are valued at about $10mln each. Qwark is a payment system and APX is a mining project.
NEO has some projects coming to its blockchain, but currently it has only GAS CryptoAsset.
Waves is an interesting case. While having quite a large market cap, its assets are poorly traded. MobileGo, Wagerr, and Incent are the most interesting assets of Waves blockchain.