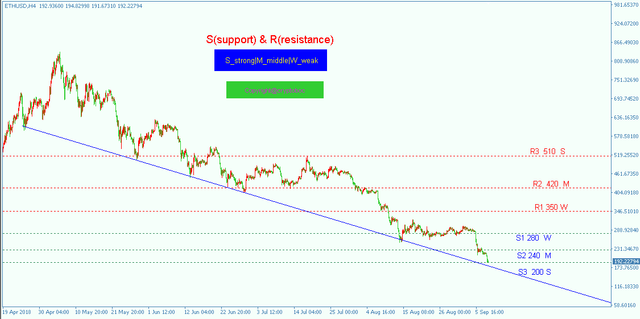 ETH(ethereum)
=>>Support 支撑& Resistance (压力)<<=========
[S-strong(强)|M-middle(中)|W-weak(弱)]
| | | | | | | |
| --- | --- | --- | --- | --- | --- | --- |
| S1 | 280.54 | W | | | R3 | 510.76 | S |
| S2 | 240.17 | M | | | R2 | 420.82 | M |
| S3 | 200.66 | S | | | R1 | 350.50 | W |
Tend:
------------------------------------------------------------------------------------
=>>Market Forecasts(市场展望)<<===================
NEWS:Crypto Growth Nears Ceiling, Ethereum Co-Founder Buterin Says.--YAHOO FINANCE.
.Yesterday the Ethereum tumbled again ,the price has broken the strong support $200,Although this case we have analysis at the last post, but we still sad to see that also.But the downward momentum may stop here.The bearish may pause at this point.May is the darkness before dawn,let's see.
Expect to resume rise.
Weak support lies at $280.
Weak resistance locats at $350.
Strong support is given at $200.
Strong resistance remains at $510.
As long-term opinion
. Ethereum will up-tend as long-term,the amplitude may not strong as before but will more steady.There is looklike that the currency could sideways trading between $200 - $1'100 in 2018.
市场要闻:加密货币的发展可能已接近天花板,以太坊共同创始人布特林说。---雅虎金融
以太坊在昨天继续大幅下行,价格击穿$200的强支撑位,这个在上一篇分析就已预估到了,但仍然不太愿意看到。但这里也可能是黎明前的黑暗,让我们拭目以待。
技术上看短期仍是空头,期待早止跌反弹。
第一支撑位在$280。
第一压力位在$355。
强支撑位在$200。
强压力位在$510。
长期来看,以太坊将呈振荡上升态势,波幅预计没以前剧烈,但会更加稳定。2018年可能在$200 - $1'100之间振荡运行。
++++++++++++++++++++++++++++++++++++++++++++++++++++++++++++++
The texts and photos in this post are @cryptoboc original. If you like to share,please resteem through steemit and quote me @cryptoboc as the author. Thanks for your appreciation.
++++++++++++++++++++++++++++++++++++++++++++++++++++++++++++++