Yesterday the biggest ICO of all times was carried out. BANCOR, a platform that creates smart tokens on Ethereum's Blockchain , managed to raise over 150 million dollars in as little as 3 hours.
I waited patiently by my computer for the ICO to start and send the funds to Bancor's crowdfund address. However, the volume of transactions was so absurdly high that I had to make 5 attempts before I could finally send my transaction, and I did that by setting the gas limit to 250.000. As you can see on the picture below others were not so lucky: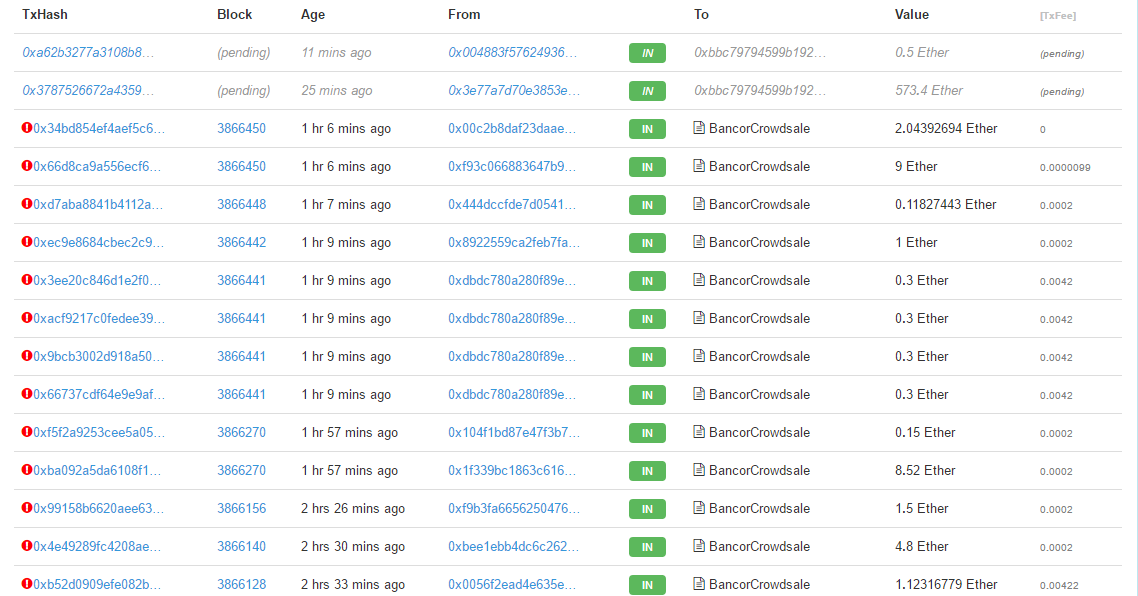 At first the transaction bottleneck was categorized as "massive malicious attacks on the network" by the Bancor Team, but it was later discovered that the cause of the DDoS was the huge amount of TXs made to Bancor's smart contract. The result was an extension of the ICO and of the initial "hidden cap".
Lessons to be learnt and EOS approach
ICOs are getting crazy, a lot of people are missing out due to bot buying and just natural high demand of new tokens.
To avoid the clusterfuck that happened yesterday, EOS and @dantheman have come up with a new ICO system that consists of 1 day windows so that everybody who wants to buy will get a chance.
Nevertheless, we need to wonder if Ethereum is appropriately equipped to handle these major ICO events that bring an immense amount of traffic to the network in a short period of time.