Why businesses and investors should check out iOwn token?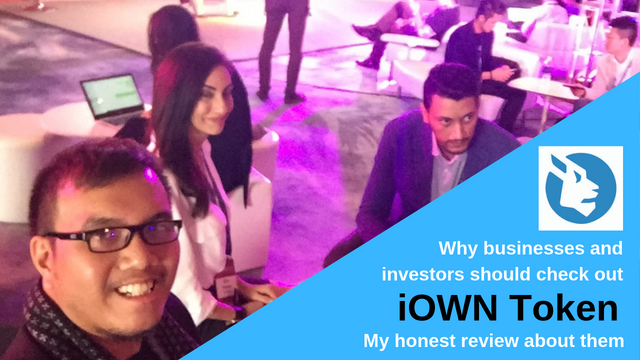 I'm a huge fan when it comes to crowdfunding or crowd-investing. I've been in several traditional sites such as Kickstarter, Indiegogo, etc., where startups successfully raised funds to launch their state-of-the-art projects. I even contributed there one time, where I did get a pair of "digital nomad" shoes (but now it's totally worn out). 
However, there are concerns that surrounds between businesses and investors in traditional investment platforms. 

As what you've seen in the table above (screenshot from litepaper), businesses and investors are having a hard time in terms of trust and reliability. As an investor myself, I find it hard to determine if the business that I'm investing can be trusted. Any of them could make a fool out of the investors anytime due to the lack of transparency.
On top of that, processing fees are kinda high for an investor like me if I want to participate in a certain project. Both businesses and investors are finding it hard to make a project successful due to these issues. 
But not for long.....
There is one crowd-investing platform that would finally end all of the issues that we are experiencing nowadays. No matter if you are owning a business, or an investor who is looking to fund promising projects, this one's for you.
Here are the reasons why businesses and investors should check out iOwn token project?
This is something that iOwn token are solving a problem that we are encountering in terms of trust. With their state-of-the-art ecosystem, there's no need for us to worry about finding trusted businesses and partners respectively.
Even for myself as an investor, I find it hard to seek businesses and small startups that can be trusted and worth to invest. For me, there's no more headache for me to determine if that business is trusted or not.
Same thing goes to businesses and startup owners. The major concern is that they're having a hard time in finding credible partners or investors that they can convince in investing to their respective projects. But with iOwn believers, there's no need for them to stress out it finding the partners that they need. 
It's going to be a win-win situation for both businesses and partners/investors to check out the iOwn platform. 

Another reason why businesses and investors should be checking out iOwn is because of its blockchain-based ecosystem. It's one thing that iOwn's crowd-investing platform is unique in the eyes of the businesses and investors. It what makes them different compare to the other traditional crowdfunding or crowd-investing platforms in the market.
It means that for every activity being initiated in iOwn's ecosystem, it is recorded on the blockchain and it gives transparency for both businesses and users. You know, and I know, how powerful blockchain technology is. It's disruptive that can be used by various industries which is transparent, especially crowd-investing platforms like the iOwn platform. 
With this feature alone, it makes iOwn platform stand out from the rest in terms of crowdfunding or crowd-investing. 

For me, this is another reason why iOwn is taking the crowdfunding industry to the next level. As investors, we need to know how trusted that business or startup is on the platform. In order for us to determine that, we need to know the level of trust and risk that they have. I honestly believe that most of the centralised crowdfunding websites are lacking this kind of feature.
With iOwn, they have licensed experts and professional auditors on board to make sure that investors like us can easily make choices based on trust and risk score. Licensed experts are having the ability to measure both trust and risk levels of these projects to provide both trust and risk indication score. Apart from that, they also validating the financial sheets of these businesses to provide indication score of both profit and return of investment (ROI).
As for the professional auditors, their responsibility is to monitor the P &L, revenues and the business value. For me, with the presence of both professional auditors and licensed experts, it would give investors confidence to choose and decide the projects that we would like to participate. 

I usually take my time to look at the roadmap of a project to see if it's realistic and achievable. Good thing that iOwn's roadmap is something that I envisioned to become successful. As what I have seen in their roadmap here, they have achieved so well for the most of 2018 such as forming the iOwn foundation, concept and team development and so on.
Fast forward to today, they are currently running an initial exchange offering (IEO) on LAToken. To be honest, when I met the iOwn team at Token 2049 Hongkong, I did suggested to them about doing IEO in LAToken while doing private sale. 
The one that I am looking forward to them is to obtain crowdfunding and first operational license to strengthen their legitimacy. For the final phase which is the expansion period, that's where they're going to start adopting this massively. I even offer them to market in the Philippines, since crowdfunding is huge in the country.
I'm so excited on what's in store for businesses and investors in using the iOwn platform, especially in the Philippines.

Of course, there is no project that can become successful without a team that is hardworking, dedicated and passionate in iOwn. I haven't met most of their team, but I did have a chance to meet a couple of them at Token 2049 event in Kerry Hotel Hongkong.
When I met their representatives, Mohamad Sraidy (Business Development Director) and Zina Ashour (Marketing Director), I am enlightened about their purpose in building up the iOwn group. Right now, they're in my business connection list and I messaged them from time to time. It's great to meet both of them and I finally understand how iOwn could make a difference in revolutionizing the crowd-investing industry. 
I wish I would meet them again and the rest of the team and advisors in the near future. Overall, they're doing great work in making a difference with the iOwn group. 
Kindly check out my video with both Mohamad and Zina last March 2019 at Token 2049 Hongkong.
My final thoughts for iOwn token
I honestly believe that with their vision and mission in making a difference to the financial system, iOwn token is for real. They're not all hype, but they're serious in connecting businesses and investors easily with the revolutionized disruptive blockchain technology.
I know that there are lots of crypto-related projects that are promising in my eyes, but I would not dare missing out iOwn. They deliver their services very well to the community, and I honestly think that they're going to have a bright future ahead. In many years to come, I have no second thoughts that iOwn would become one of the most successful projects in the cryptoverse.
If you want to check more of iOwn token, kindly visit their official website here. However, if you want to deeply understand how their ecosystem works and other important details, feel free to download and read their whitepaper here. 
Thank you much for taking your time in reading my blog post about iOwn token. Feel free to share this to your crypto and business friends out there if you think this one's helpful enough for you to check them out. 
One last thing peeps! If you want to stay updated with my blog posts, make sure you follow me on Steemit. On top of that, you can also follow me on my official Facebook fan page, Youtube and Twitter. Let's also connect on LinkedIn and Telegram!
To your future success, iOwn! 
My Bitcointalk profile here: https://bitcointalk.org/index.php?action=profile;u=254229