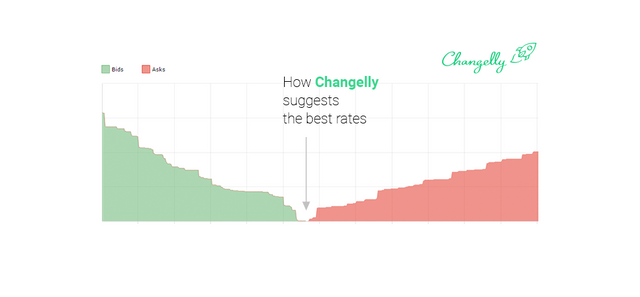 Changelly is the best way to exchange your crypto coins just in a few clicks. From the first day of launch, we provide our customers with the most profitable rates. Today we're gonna tell you how we do that. You'll learn how Changelly calculates and suggests the best rates and see all the magic going on between transactions.
Trading platforms
Changelly is connected via its API to the largest and reputable trading crypto platforms, like HitBTC, Poloniex, Bittrex, etc. These are exchanges for professional traders and investors. They contain many special services, diagrams, bid/ask orders and other techy features which may seem too tricky for a regular user.
In fact, things get easier to understand if we take a closer look.  
Here is an Bitcoin / Ethereum (BTC/ETH) order book from Bittrex.com.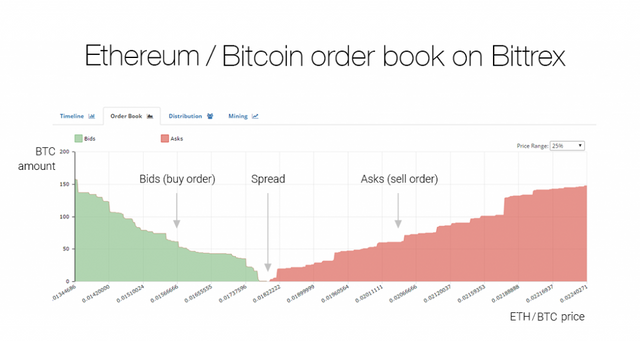 You can see bids (buy orders) on the left, and asks (sell orders) on the right. When a bid meets an ask, the trading is closed. 
There is always a difference between the lowest bid buying and the lowest ask selling, named the bid-ask spread. On the order book, it looks like a tiny hole at the bottom. 
On the net, you might have seen ticker prices. Basically, they represent the half of the difference between the lowest bid and the higher ask. On the graph, this rate is shown in the middle of the spread. 
On the right, you may see something like a stairway that is formed by the increasing amount of coins to be purchased. Each new level means a new price level.
When you want to exchange cryptos, you influence the market and move the order book. For example, when you exchange ETH to BTC, it's a bid (buy), the ETH price goes down. Vice versa, if you exchange BTC to ETH, that's an ask (selling), the ETH price moves up. 
Thus, the more coins you ask to exchange, the higher price for each one you'll get. That's the market's principle.
The rates Changelly is showing in real time are based on the current rates of trading platforms.
How Changelly works
Now, let's see how Changelly calculates and shows the rates.
You're on the homepage, looking for the best exchange rate. You select a crypto and an amount you want to exchange. For example, that's the Bitcoin / Ethereum (ETH/BTC) pair.
What you see

What Changelly does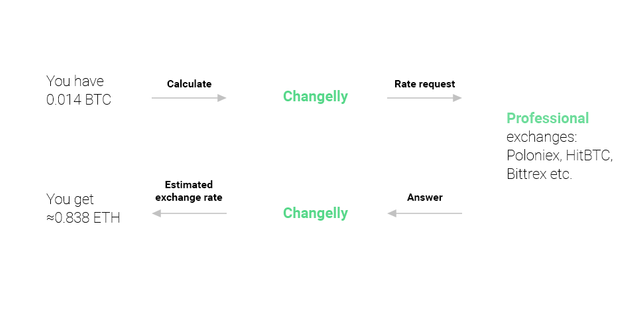 When you select the coins you want to get, the system sends a rate request to the exchanges. After the exchanges receive the request, Changelly gets the answer showing up in the field. All this process is going in milliseconds.
As the rates on exchange are constantly flowing, you see an estimated rate which may differ from the real one.
Changelly is a link between you and the trading platforms. All these complicated calculations and rate comparisons are done for you and shown in a simple interface.