Welcome to the P4RTY! Are you ready to play? P4RTY platform will change the way you look at dApps on the Ethereum blockchain. They have a plan and you should definitely check them out.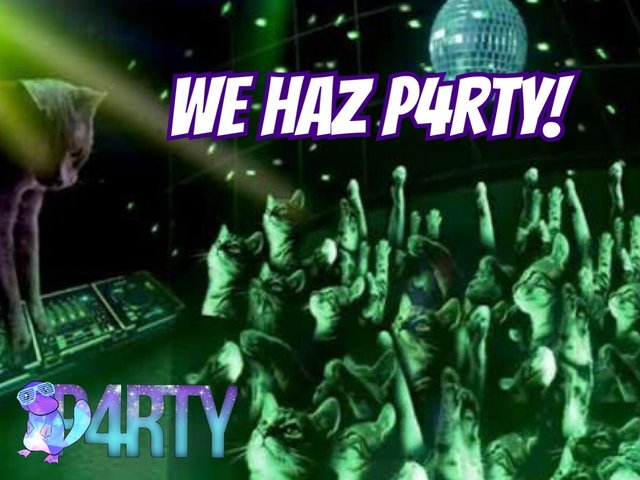 P4RTY looks to mix entertainment, value and gaming on there platform by utilizing smart contracts on the Ethereum blockchain. This will bring a very unique experience to the user and open it to a more main street audience. They are focused on getting It is because of this unique vision they can influence the space in a positive way. P4RTY stands for, "Participation for Realtime Yield" and they are definitely focused on fast paced real money gaming.
The team is composed of very passionate individuals who come from different parts of the world. Their common goals and vision has brought them together to tackle the consumerization of Ethereum. The founder, Tony Perkins, is a MIT Comp Sci alum and has a solid financial background. He has over 15 years of experience in financial services and technology. Tony helped launch next generation institutional foreign exchange trading at State Street over a decade ago that is still in production. He was also the CTO of Fidsafe, a virtual safe deposit box to protect digital documents for investors.
P4RTY has already made some significant strides. They have built a solid online community through Discord that continues to grow daily. Tony is also very active on Discord and connects with the community quite frequently. You'll also find other team members jumping on at different times and connecting with people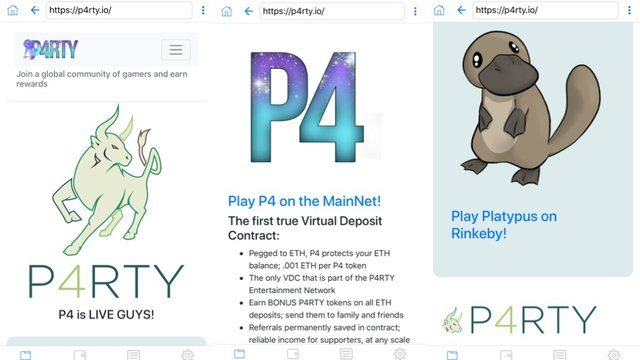 P4RTY is a network of smart contracts and solutions. Several solutions form the foundation for the project like P4 VDC (virtual deposit contract) and the tradable P4RTY ERC20 token. P4 token rewards players for simply holding depositing and holding inside of a dividend bearing community fund. Most current and future games pay maintenance fees into this fund which is then shared with the community in realtime. What's great is that as a token owner you will earn Ethereum on every buy and sell of the P4 token as well. Another added bonus is when you buy P4 you also receive P4RTY tokens as a bonus reward. It's fantastic and a good time to jump in and play the game.
The P4RTY token is generated as a reward across the P4RTY platform. This incentive is used as skill points in current games that are in development like Platypus, a competitive musical chairs meets rich list game. Platypus is very unique game that will utilize both P4 token and P4RTY tokens as a measure of strength to win even more Ethereum and P4RTY. 84% of Ether and 100% of P4RTY tokens are distributed among the players. It's a win win for everyone who plays.
Overall, the future looks very bright for P4RTY. They do still have a ways to go. However, they have taken steps in the right direction to build their platform. We will continue to watch them grow and look forward to what they have to offer. The P4RTY has just begun. P4RTY ON!!!
Get your P4 tokens here
http://rebrand.ly/party_bga