David Peterson the CEO of Arbitrage will have some major announcements for the community come Sunday the 16th. Stack your ARB because I tell you a major tsunami wave is coming and you are going to want to ride it. Are you gonna be one that watches, or will you take action now and get ready. Don't be part of the should have, could have crowd. You'll miss out big time.
The word coming from the grapevine is that it's going to be big. Various YouTubers and those close to the CEO himself and some of the chosen few who have seen the beta tests have assured this. The various ARB communities are rallying together and the price of ARB in the past few days went from 2.10 to 5.80. Will you be ready for it this time around.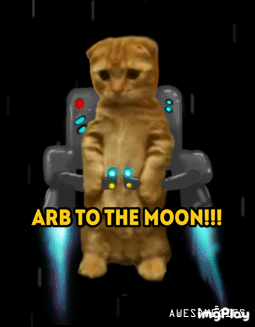 ARB has been making some significant strides this past year in the crypto space. One of the largest achievements is becoming the 1st place winner of World Crypto Con token tank contest. Arbitrage has been making a significant impact in crypto and it is only going to become bigger and better. Take a look for yourself of the ARB token stats on Coinmarket Cap. Its on a bull run and doesn't seem too likely to be stopping anytime soon.
I for one have been in it for only the past month and a half. I started back in October. I started with 322.00 USD in the aBot. Currently that 322 has grown over 21% in the past month. Any misunderstanding or doubt I had in the past is pretty much gone. The project speaks for itself. The gains and the earnings are very real.
Going forward Id like to invite you to take part of this journey with me. If you're in it already or contemplating doing it lets' grow it together. You can do just ARB or you can also connect with my other projects to grow your crypto.
The game of crypto is full of risks. And there are a lot of scam projects out there. And I know that some of us have experienced some losses. I know a few people who have simply given up and let crypto defeat them. It's hard to see what's real and whats not after you have experienced big losses. Arbitrage almost feels too good to be true. But from what I have experienced it is one of those rare gems out there. This has been working for me.
For now get some ARB and HODL. Connect with me on our one-eight discord group or simply click the link below get some ARB. I am currently stacking and waiting till after the announcements.
•••
Arbitrage - take it another level.
https://www.arbitraging.co/platform/register/affiliate/gqsqBGhk
Join One-Eight.io Today - Earn 1.8% Daily
https://one-eight.io/?ref=0xba21d01125d6932ce8abf3625977899fd2c7fa30
Connect With My Communities
Follow us on Twitter @beOneEight
http://twitter.com/beoneeight
Join the discord
https://discord.gg/w2dx2Qg
Join one-eight on Telegram
http://rebrand.ly/one-eight