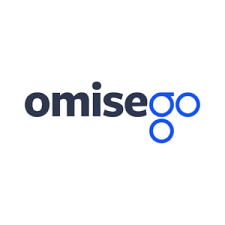 A new ethereum-based token hit Bittrex yesterday (18th June 2017). It's one of the biggest venture backed tokens to hold an initial coin offering (ICO). It's a Thailand-based and Asia-focused payment platform called 'OmiseGO' (https://omg.omise.co/ ) and is one of the flagship ethereum-based tokens to utilize the proof of stake model.
1. Key details about the project
OmiseGO is essentially a decentralized exchange and gateway. The defining characteristic, however, is that it allows you to transact across fiat, multiple cryptocurrencies and other assets (such as, loyalty rewards or game tokens) without a bank account. It is expected that the platform will have a significantly higher up-time than centralized models, and all transactions will occur in real-time. This will be facilitated through a user-friendly digital wallet. The co-founder, Donnie Harinsut, stated:
"OmiseGO basically is a wallet where people can actually cash in and cash out even if you don't have a bank account." (youtube.com/watch?v=neCaG0LoKQ0)
It's focused on the Southeast Asian population and targets the 'unbanked' (ie 73% of the Southeast Asian population that do not have access to formal financial services) and the 'banked' (ie 27% of the population that do use formal financial services).
OmiseGo will operate its own independent blockchain which "hooks" onto the Ethereum network (and others):
"We are building a blockchain which hooks into other blockchains to allow for trading across token/asset classes, largely backed by Ether. From the perspective of any individual chain, we are building a scalable blockchain whose contract state is bonded by the activities of the OMG chain itself. Activity on other chains can interlink with this chain via interchain committed proofs similar (but constructed differently) to BTC Relay on the OMG chain which can be submitted on Ethereum. The OMG chain validates the activity of the behavior of all participants (including activity on other chains). In other words, the role of the OMG token is providing computation and enforcement. The token itself acts as a bond for its activity on this blockchain, improper activity results in the token/bond being burned on the OMG chain. By creating a custom chain with deep enforcement, we are able to construct a system where consensus rules optimize for high-performant activity." (https://cdn.omise.co/omg/whitepaper.pdf )
2. Key details about the token and its distribution
The OmiseGO (OMG) tokens are an essential component of the platform. The tokens are used to secure and validate transactions on the blockchain via a proof of stake model. As an incentive, stakeholders that validate "correctly" will receive the transaction fees processed on the platform. Any stakeholder that validates "incorrectly" (through malicious attacks or alterations on the network) will have their stake burned.
Here is an explanation from the white paper:
"Owning OMG tokens buys the right to validate this blockchain, within its consensus rules. Transaction fees on the network including (but not limited to) payment, interchange, trading, and clearinghouse use, are given to non-faulty validators who enforce bonded contract states. The token will have value derived from the fees derived from this network, with the obligation/cost of providing validation to its users. This token must have value, to prevent low-cost attacks and is necessary to enforce this network" (https://cdn.omise.co/omg/whitepaper.pdf )
Here is another basic explanation from the OmiseGo team in their subreddit:
"OMG is a token that secures a public permissionless POS network, whose primary use case is to host a decentralised exchange for digital fiat and crypto alike. It is backed by significant mainstream financial firms in Asia who will use it as the backend for existing digital wallets - think Venmo, Google Wallet, WeChat Pay (examples of digital wallets only) - and for hosting digital fiat tokens for their existing merchant payment network.
OMG holders can use OMG to validate the network. If they validate a block correctly, they get paid the tx fees from that block (but if they validate incorrectly, they get punished). Like mining but without the need for hardware (and if you do bad stuff the network doesn't accept, you don't burn expensive electricity, you lose money in other ways)." (https://www.reddit.com/r/ethtrader/comments/6n7sl2/mcdonalds_to_start_using_omisego_as_a_payment/dk7jfho/ )
Here is a quick summary of the token details and distribution:
• ERC20 token;
• OMG tokens are used to secure and validate the network;
• OMG stakeholders receive transaction fees;
• 140,245,398 tokens is the max cap and no new tokens will be created;
• 98,312,024 tokens are circulating (~70.1%) and were distributed via ICO (65.1%) and airdrop (5%); and (
https://cdn.omise.co/omg/crowdsaledoc.pdf
)
• The remaining 41, 933, 374 of tokens (29.9%) are held privately.
3. Key people involved
OmiseGO has big names from the ethereum space advising the project. I will only address the notable stakeholders. Most of this information is pulled from crunchbase and the official website. All other sources will be indicated.
3.1. Meet the team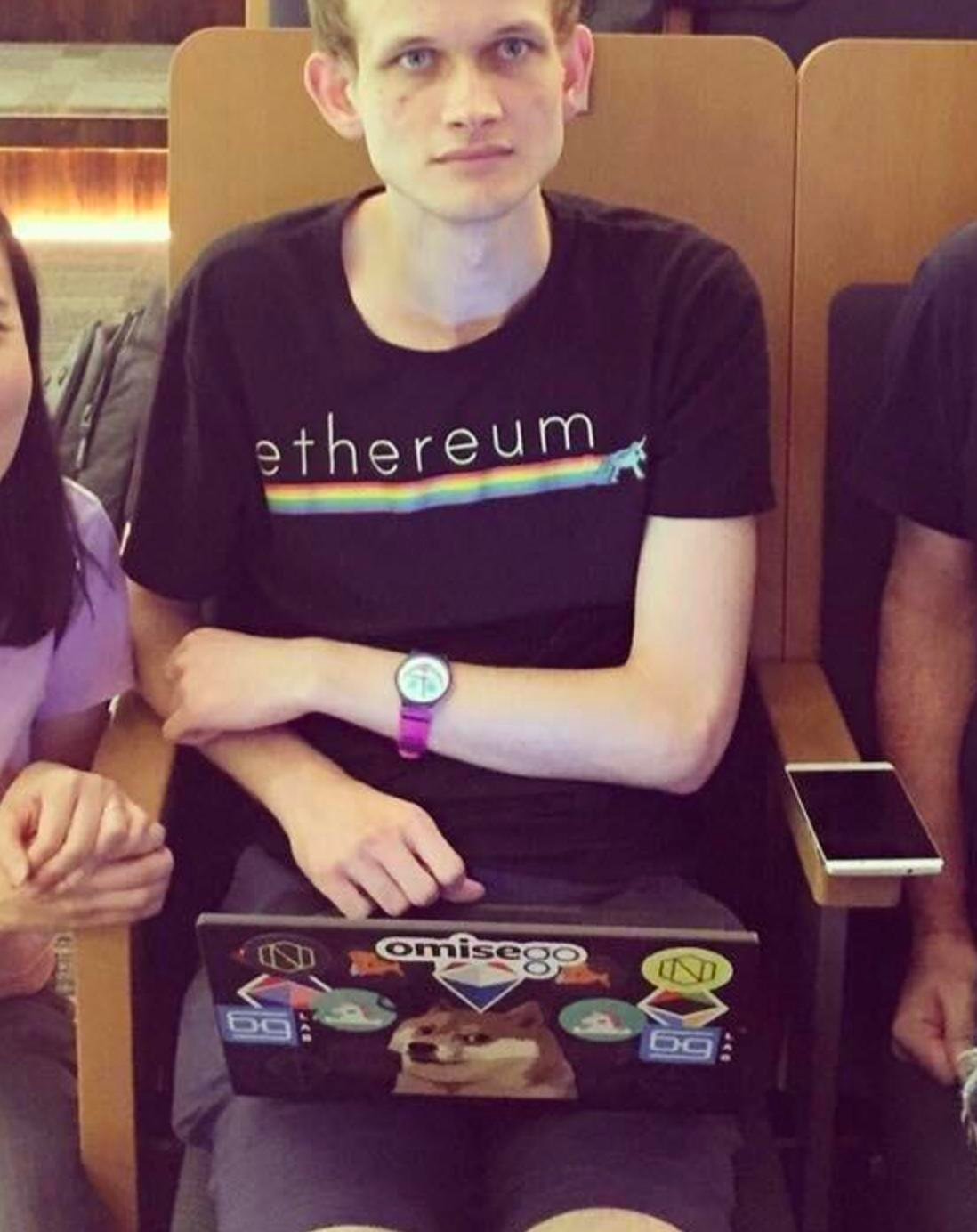 Vitalik spotted with an Omise Go sticker
• Jun Hasegawa and Donnie Harisnut: Co-founders of Omise. There isn't too much information on either of them. Jun was the director of a Japan-based printing company called 'Alpha-Do' (https://www.alpha-do.com/ ) from 1999 – 2015 (https://www.linkedin.com/in/junhase/ ).
• Joseph Poon (Advisor and Principal Author of the Omise White Paper): Co-author of Bitcoin's 'Lightning Network' white paper (http://www.coindesk.com/striking-twice-lightnings-joseph-poon-takes-on-ethereum-exchange-project/ )
• Vitalik Buterin (Advisor): Founder of Ethereum. Omise operates on a proof-of-stake model and Vitalik is assisting with "proof-of-stake research".
• Dr. Gavin Wood (Advisor): Co-founder of Ethereum and Founder of 'Parity' (most known for the Parity Ethereum wallet).
• Vlad Zamfir (Advisor): Research lead for Casper, which is a new Proof of Stake protocol for Ethereum.
• Julian Zawistowski (Advisor): CEO and Founder of 'Golem'.
• Prof. David Lee Kuo Chuen (Advisor): Professor of Quantitative Finance at Singapore University of Social Sciences.
• Roger Ver (Advisor): CEO of bitcoin.com and early backer of Bitcoin. He has invested in startups such as Ripple Labs and Kraken.
It's important to note that Omise has already made its first acquisition – one of Thailand's 3 major payment service providers, 'Paysbuy'. It was the first e-wallet service in Thailand. Paysbuy's ayment facilities "will be merged into Omise's". (https://www.techinasia.com/omise-acquires-paysbuy )
3.2. Investors and partnerships
Omise has raised a total of $45.4 million in funding and can be broken down into:
• $300,000 seed funding;
• $2.6M Series A;
• $17.5M Series B; and
• $25M ICO.
• SBI Asset Management (Series B – Lead): A tokyo-based private equity firm. The most notable fact about SBI is that the holding company (SBI Holdings) invested in Ripple Labs (creator of the interledger protocol and XRP token) in Series B funding (http://www.coindesk.com/sbi-first-bank-backed-digital-currency-exchange/ )
• 500 Startups (Series A): An accelerator that does seed and early stage venture investments. It has invested in projects such as Udemy and Wildfire (which was acquired by Google).
• Mdconalds Thailand (potential partnership and/or use of the Omise service): One of the co-founders, Jun Hasegawa, has confirmed that McDonalds Thailand will "change all payment cannel to us one by one". There is an expected announcement at the end of this month to clarify details.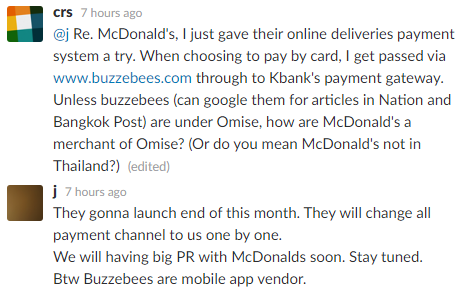 'j' is the co-founder Jun Hasegawa
/antz fact-sheet
Please Note: fact-sheets take a lot of time to create. Please let me know if you find them useful. Any feedback is appreciated!
Donations are also welcome and appreciated.
Ethereum: 0xD1d814752c1648BeDc05F106353153bD433BA5Ac
Bitcoin: 1NnXmTA85x7YXHdvMTFmz8XBgnCb3XZcu6