Stox Alpha – Launching August 30th – Sign-up Now!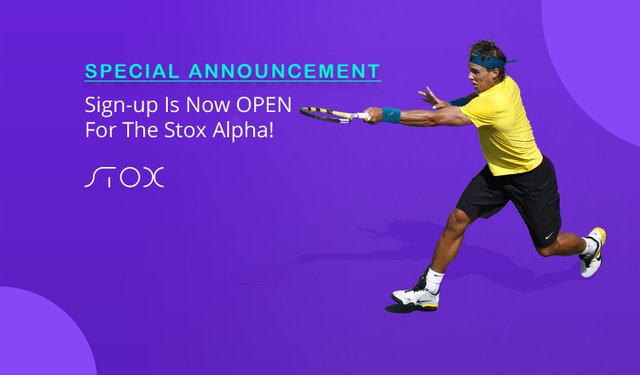 Great News!

Sign-up is now officially open for our Alpha Prediction Market, which will launch next Wednesday, August 30th.
Space is limited so hurry and sign-up today!
The community members who will take part in the Alpha will then have the opportunity to share their thoughts and ideas about how we can go on to create the best prediction platform in the world.
It's important to mention that this Alpha launch is intended to help us improve the user flow and development of the product with your input.
Please note that this is a preliminary Alpha development launch of what will be the full-blown decentralized product running on STX tokens.

How it Works
Your first step is to sign-up to take part in the Alpha: www.stox.com
Once the Alpha launches on August 30th, we will email you instructions on how to use the 1000 STX demo tokens to make a prediction with.
Remember: The Alpha will use demo STX tokens only, NOT real STX.
  
Tell Us What You Think
We want to make sure that we involve the community right from the beginning. That's why once you have taken part in the Alpha Prediction, we would appreciate it if you would give us your feedback, thoughts and ideas by emailing us at: [email protected].

Community Love and Support
As always, we want to thank you for your continued show of support. It means so much to the team and we hope you stick with us.  As we've said before, we don't plan to slow down anytime soon!
Team Stox  
                       Website | Twitter | Telegram | Bitcointalk | Reddit | Youtube