First of all, I wish you all a pleasant and healthy new year. Let's continue to be patient and stay positive, even if it turns out that 2019 might only be the year of accumulation phase (and not the next bull market).
I will continue to analyze the crypto markets and some indices, whenever a good opportunity arises.
I think ETH is showing us the pattern, that BTC will develop too.
ETH is very likely to show one more leg down, before going up: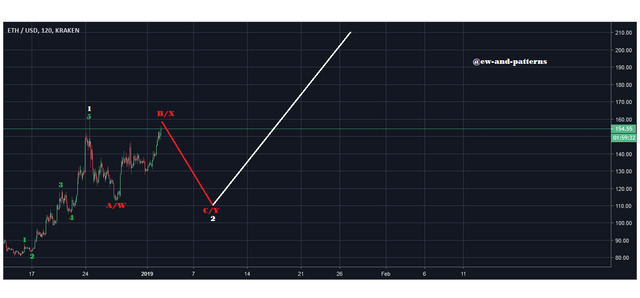 click to enlarge
And BTC is starting to form this pattern as well. So the correction is likely not over yet.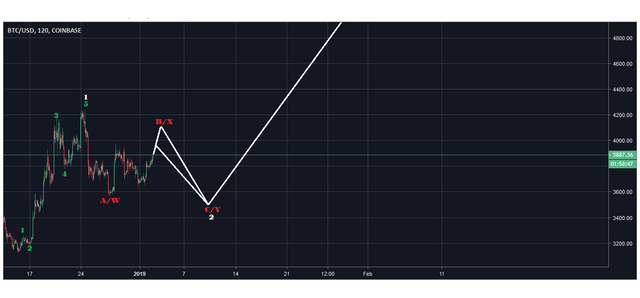 If you think this to be useful information:




Feel free to use and share my charts, but please mention me, @ew-and-patterns as the author. Otherwise it is considered plagiarism and I will flag you and advise my friends to do the same.




Please consider leaving a comment, like or resteem, if this post entertained you or helped you see things differently...
Have a nice day :-)


#bitcoin #btc #crypto #cryptocurrency #cryptocurrencies #steem #sbd #ethereum #eth #ripple #xrp #bitcoincash #bch #eos #litecoin #ltc #stellar #lumen #xlm #digibyte #dgb #cardano #ada #iota #tether #neo #tron #trx #omg #verge #xvg #bitshares #bts #nano #monero #xmr #dash #ethereumclassic #nem #binance #binancecoin #vechain #tezos #omisego #steemit #money #life #altcoin #altcoins #trading #investing #investment #investments #forex #forextrading #market #finance #gold #silver #commodity #commodities #stock #stocktrading #stockmarket #facebook #fb #apple #aapl #spx #xau #xag #usdjpy #usd #amazon #amzn