EST-TEAM #3 // Facebook Page & Plans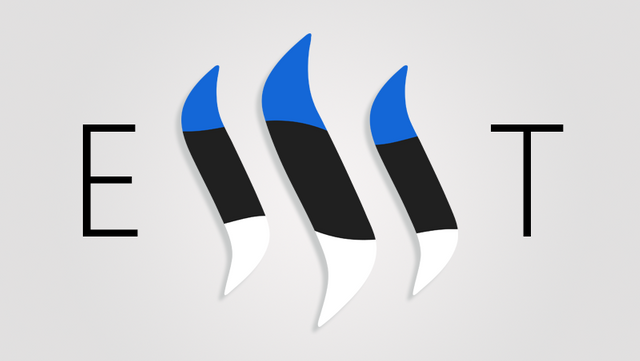 On Friday I read @sndbox 's new post about Creating Steem Stickers with the intention to draw new people to Steemit. I've felt the same way for a long time - I want to see more people here and I want to do something to help this case. Mainly I am still focused on growing the Estonian community and push the member count over 100.
The sticker idea gave me enough push to start doing something. I wasn't sure if stickers would work here, because we have tried that with one project already. Posting stickers around town is low-key illegal in Estonia so I wouldn't want anyone to vandalize anywhere just to promote something.
Promoting on Facebook
---
I think I could say that most of the Estonians use Facebook a lot, and other social media like instagram, Twitter as well. That's why I thought the easiest way (maybe!) to draw attention to Steemit amongst Estonians could be to build a Facebook page and start posting inspiring posts about Steemit there. Therego the members we already have can like/share the posts made and hope that they'll end up in other people's feeds and draw attention. Seemed easy and anyway the page got made.

Steem It Estonia - Facebook Page
Community logo uses Steem logo mixed with our flag colors.
The cover image uses pretty basic ad-line of Steemit:
"Create content. Get paid. It's that simple!"
The page is new, so currently only basic about info, profile image and cover photo have been added, but I've already come up with a post design to use when we'll start putting up posts on facebook. Again, taking some hint from @sndbox 's Sticker post. Sadly we can't use the awesome phrase "Feeling zuckered?" in Estonian, but refering to Facebook as Wastebook is a good one! Also "Time for a change!"
Our style will be more minimal and modern, because I think professional look is what could make it look as a legit thing. And well, I also just like something that looks like that.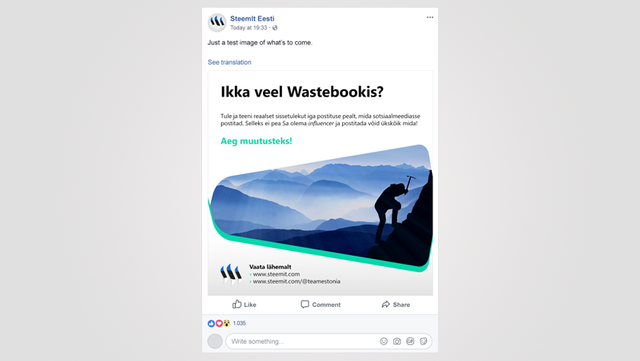 "Still on Wastebook?
Come and earn real income from everything you post on social media.
You don't have to be an influencer for that and you can post whatever you want!
Time for a change!"
Influencers are a big thing in Estonia lately and you can here about them here and there, but not always in a good way. A lot of people don't really dig the influencer thing, because influencers only want to get followers to get money. That's why I decided to mention influencers in that specific line. To reach regular people by saying that everyone can earn with social media, not only influencers. Everyone! Of course there will be other posts as well, targeting different groups of people. That's just one example of what's to come.
Road to being able to curate better...
---
As always, even though I have a lot of ideas of how to promote Steemit and all the enthusiasm for wanting Steemit to grow here in Estonia, the thing keeping us down is not having enough green paper stuff to attract people. One thing is to explain to people what Steemit is and how to get started in here, but it would be a lot easier if we could actually motivate the people with the actual income we promote (and Steemit promotes). A lot of Estonians have lost their motivation here, because most of us get around 0.01$ upvote values on their posts.
It would be nice to get people on board while being able to upvote their posts with 1.00$ upvote value even. This is why the @teamestonia curation guild was made (which currently only holds around 100 SP - clearly not enough to curate with). The plan behind the guild is to motivate people to post quality and original posts to get a vote and our team will manually curate the best posts of the community. Once we are able to.
Currently the @teamestonia still votes and curates, but sadly with just a few cents. If anyone has an idea how to get SP (or a good amount of delegation) without paying from our own pockets with real money (because I'm effin poor irl), then let me know! :D
---
Find Estonian Steem Team
@teamestonia

Facebook Page

Discord Server

Steemit blog where you'll find everything you need to know about Steemit in Estonian language.
Like on Facebook to help promote Steemit and be up to date with Steemit and Estonian community.
Want to meet other Estonian Steemers and chat about crypto & everything related? Join Discord.