Recently my favorite perfume is the Marc Jacobs DAISY. Not just because it has my name but I love the scent which is mild and fruity-floral with some sanldewood and white wood oil base.
There are different scents where some are more fruity and some more floral. Some have citrus scents. They make me feel good. It boosts your confidence when after you shower and go out you spray on some of your favorite perfume. I saw the brand a few years ago in a mall or my mother saw it and said we should buy it but it was so expensive. So I just sort of mentioned on facebook and my older brother got me a set of the original scent.
I would use it sparingly because I did not know when I would get more. But after another year he sent me anoth set but a different scent. Also a good friend from US with the same name also got me the original scent again.
Now my daughter is there, she gave me 3 different scents everytime she came home. I am so happy with my collection.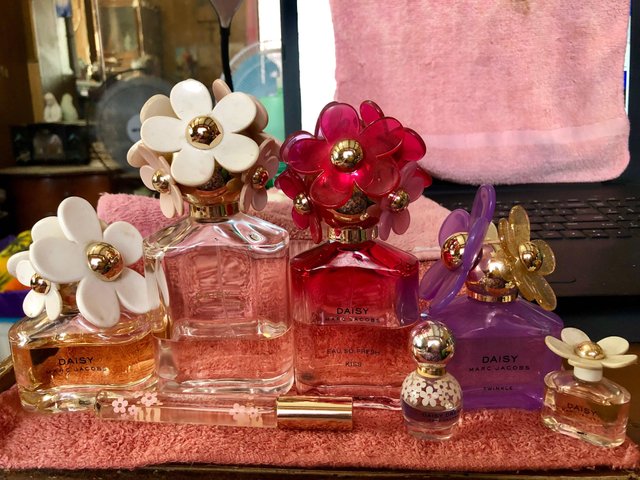 This is my collection from L-R original scent, Eau so Fresh, Eau so Fresh Kiss a limited version, Twinkle, the end is just a purse size of original scent and the round small one is Daisy Dream a limited version.
These makes me happy🥰