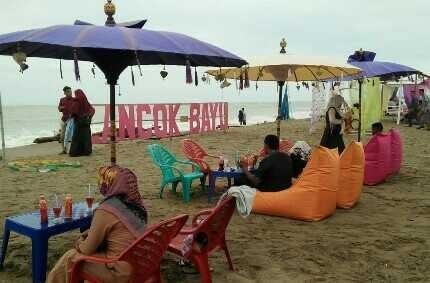 ---
New tourist attractions located in Gampong Lancok, District of Syamtalira Bayu, North Aceh, looks increasingly developed since opened a new cottage by local residents for the place of selling.
Now, many new cottages belonging to residents lined up along the beach provide a typical culinary like crab noodles. One of the new cottages belonging to Azmi (50), which made nuanced romantic. The cottage is decorated in colorful in a small and large plywood pouch that reads "Paradise Bay" and "Lancok Bayu".
"I opened this cottage since January 2018. I took the initiative to open a culinary business in the Beach Lancok because it is feasible to be developed as a tourist attraction," said Azmi
Azmi displays a cottage that attracts attention in the hope of attracting visitors to this beach resort. "Decorations like that I was inspired by my sister who is in Lampuuk Beach attraction, Aceh Besar," he said.
According to Azmi, visitors are increasing in Lancok Beach because there are many cottage owned by residents in the area. Visitors are not only residents of North Aceh, but there are from Bener Meriah Regency, East Aceh, Bireuen. Some people, Azmi said, know the attraction through social media like Facebook, Instagram, and WhatsApp.
"The crowd at this beach is not only during Idul Fitri, also on the day usually especially Saturday and Sunday. When Lebaran like this quite a lot of visitors who enjoy beach atmosphere with his family," Azmi said.
Revenue earned Azmi in a day (holiday) reached Rp1 million. "This business is still self-reliant, there is no cooperation with the government.The people who visit here have never been quiet so far," he said.
---