TAIWAN =YEHLIU GEOPARK/QUEENS HEAD.
Hello Steemians.,Its been a long time that I wasn't able posting my blogs here.But,Today I'd love to share my travel experiences,and work experiences here in Taiwan.To make my story short,I am now currently working here in Taiwan.So,allow me to share with you what Taiwan can offer to us.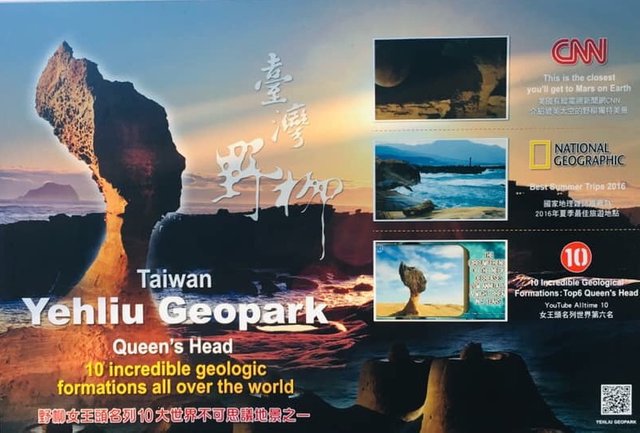 One of the best places that I was really looking forward to visit here in Taiwan was Yehliu Geopark. I had several friends who visited Taiwan before it got popular with the Filipinos and they posted pictures of these oddly shaped rocks that looked out of this world. Do you think I saw them with my two own eyes? Of course I did!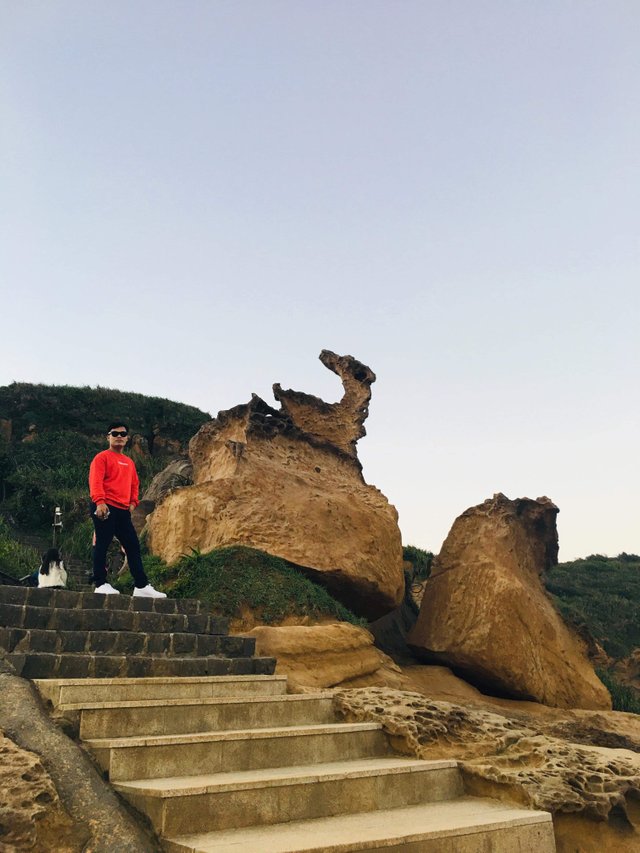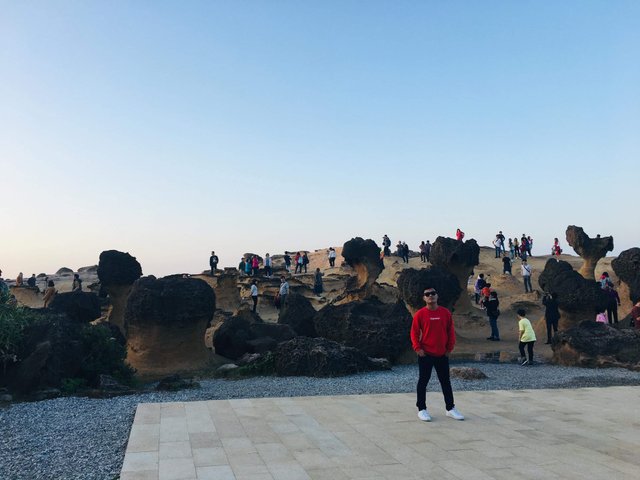 How to Get to Yehliu Geopark
Located in New Taipei, Yehliu is not accessible from Taipei by MRT. However, traveling to the park is still quite easy and of course, worth your time. Only option is through buses, but there are different routes you can take. We took our ride at the Taipei West Bus Station, which is located a couple of blocks away from Taipei Main Station. However, we have gone in circles trying to find the right stop for bus 1815. Google Maps kept pointing me to the wrong spot and the people I asked didn't seem to know this as well. My tip: locate the East 1 Gate of the bus station (don't go inside the building!) go straight and you will see the bus stop.It really tooks me about 15 minutes to find it. The bus signboard will say Jinshan Youth Activity Center, you'll notice you've reached your destination because many passengers will get off and you'd notice tons of tourist buses packing the main road.Patience is really required finding their bus station.But still,you can ask any Taiwanese people,they will really entertained you very well.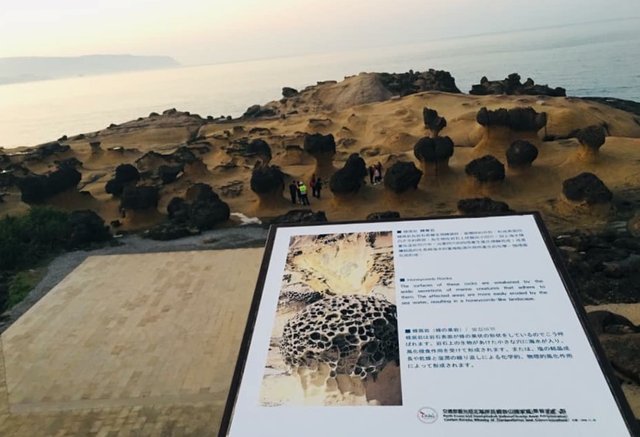 Entrance fee
This is one of the few places in the country where I had to pay an entrance fee to get in. The entrance fee is 80NTD. As I enter the park's premises, I saw lots of rock replications, I just passed by it as I was more interested at seeing the real deal anyway.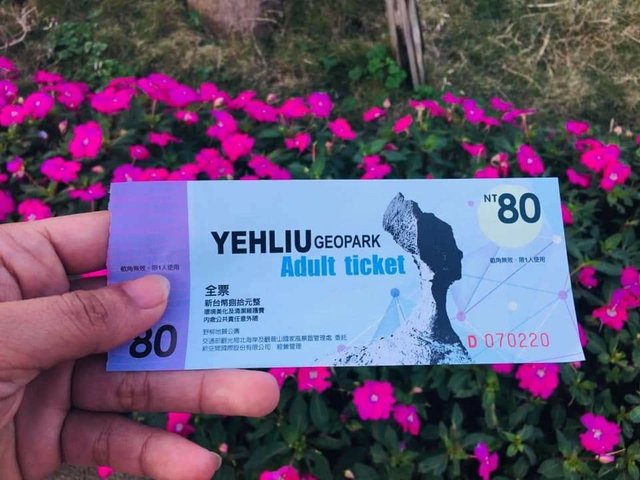 This place was very fascinating.It's home to these unusual mushroom-like rock formations that have been shaped through the centuries by wind and water erosion.As I go through inside the park, I saw an unusual landscape that will make you feel you are in a different world and be in awe how wonderful Earth is. You'll see rocks that look like mushrooms, candlesticks, honeycombed configurations, and bean curd. You can even play with your imagination!Our fingers won't stop clicking on our phones and camera.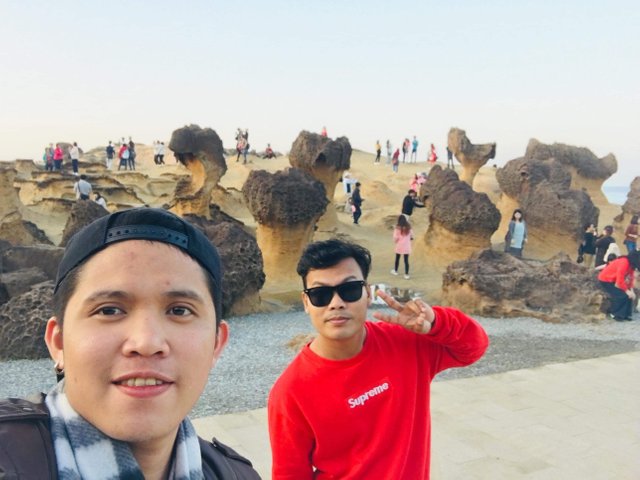 There were a lot of visitors in the area wherein they are busy taking pictures in this beautiful place.But,me and my friends do have a policy that we always follow in this kind of situation saving the best for last.So we try to explore and try to survey the section that is less packed and try to go to the nearest entrance gate.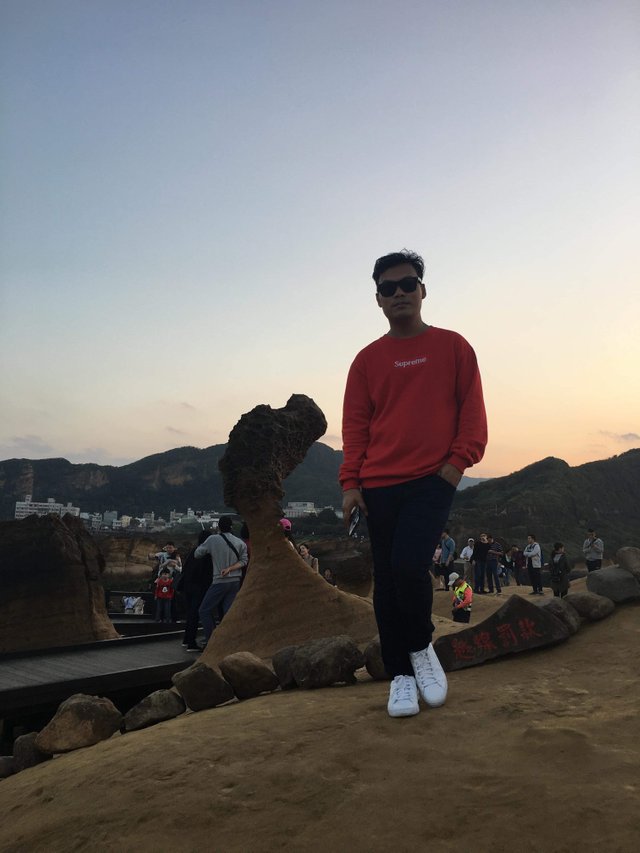 Quens Head Rock Formation=This is the famous Queen's Head, however, no matter which angle I still couldn't figure out how it looks like a head? Perhaps the shape has already changed? I am not sure if I got it wrong because there were definitely lots of people lining up to have their picture taken with this rock. Perhaps, I was looking at the wrong angle? Anyway, this is one of the rocks that the park's officials are very cautious of. Aside from setting up a queue for picture taking, you are not allowed to touch it as well. If you get near it, you'd hear a whistle and get some scolding from the guards.
By 8pm,We had seen and satisfied with our trip to Yehliu Geopark.We are headed back to our hotel and take some rest.It was really an awesome experience.There are still a lot of beautiful places that we had visited on the next day.But,this is all for now.Stay tuned to my blog for my next adventure.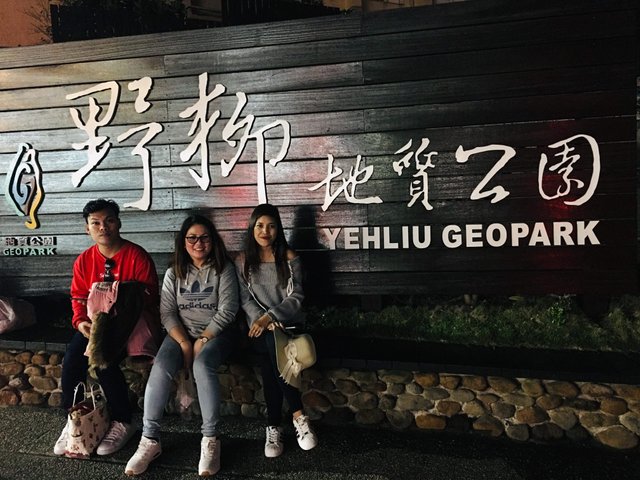 yours truly,
@thian2817
PROUD OFW