Keumudee fruit # 2
Hi everyone's!!! Good day... Greetings for all lovers of eSteem and steemit! Hopefully always in good condition
---
Continuation of posting 1....
As has been explained in a previous post that the noni fruit is very good for the health of the human body the main thing that is very good for people who have hypertension and other internal diseases.
This is proven by my own people in using this one fruit so that I personally cultivate it in the back of my private home page. As you can see in this post there are many noni photos that have been photographed and uploaded in this simple post.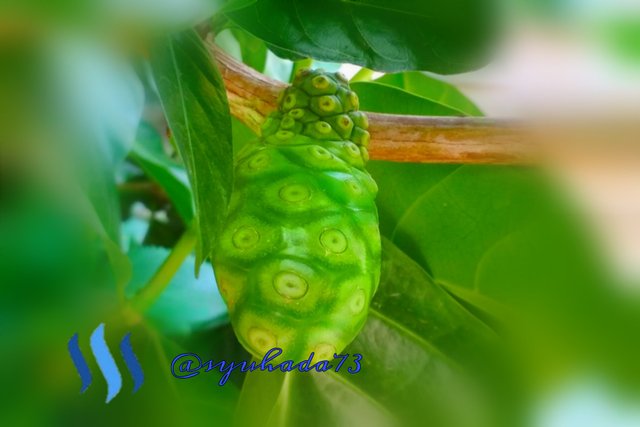 For the people of Aceh in particular Indonesia in general, the people are already very well aware of the characteristics of the noni fruit. The Acehnese have dubbed it as a disease-reducing fruit so that it has been dubbed the Keumudee Plant which is very familiar to its people, both ordinary people and other intellectual communities.

So that the community itself makes these herbs as side dishes or vegetables during lunch or dinner.
However, you must be good at processing it before making it a vegetable as a side dish in the daily staple food. Because this fruit has a scent that you don't like in the form of a very rotten aroma like cat litter. But if you know how to process it, the stench will disappear naturally.
If you plan to make it as a vegetable as a daily food, then I will give tips in the form of procedures for removing the stench before you cook it.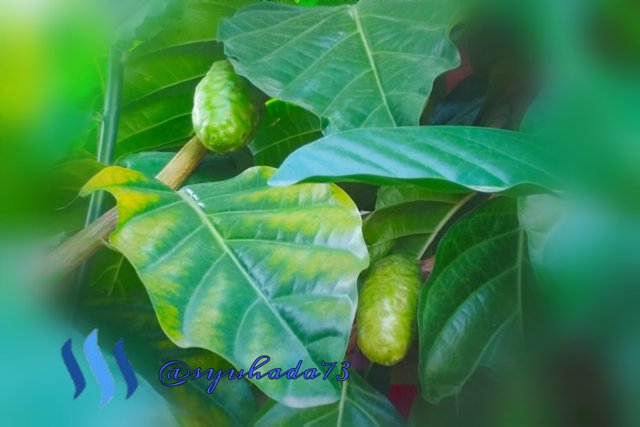 1. Clean the outer skin evenly
Noni fruit is coated with a thick outer skin, so when you want to process it, the first thing you do is clean the outer skin. The foul odor found in this fruit is on the outer skin skin of green or milky white whose thickness reaches 0.24 or 0.25 cm, so if the outer skin has been used up then you must also dispose of black or other colored children in the flesh, you have to pull out the seeds embedded in this fruit.

When the noni meat is clean with the seeds embedded in the flesh and the outer skin disappears, then there is still a foul odor before but the aroma is not like in the beginning before processing it, then you cut it to the desired shape according to your taste.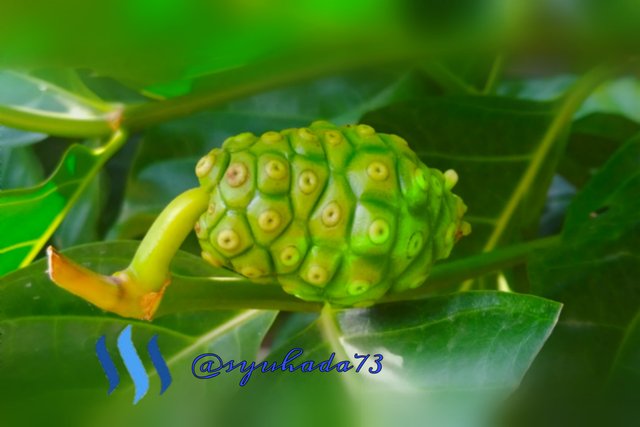 2. Discard the sap found in the meat

As you have read above, and after chopping according to your taste, soak this noni fruit with water mixed with a little salt, this is to remove the sap contained in the meat for about 5 minutes or until the foam-shaped foam will soon disappear and clean.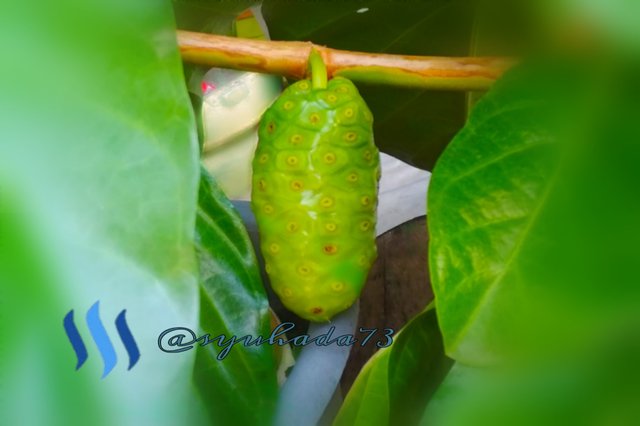 Next squeeze the meat to ensure that the stench will disappear, leaving a smell that resembles other fruits. Then the Noni fruit is ready to be cooked to your liking, usually for the Acehnese to cook in the form of soup with other simple herbs such as daily activities, or you can cook with your own favorite recipes according to their individual desires.

3. Noni fruit is very good for hypertension
In a previous post it was mentioned in detail about the benefits for people suffering from hypertension and gout or other internal diseases. However, it is strictly forbidden for people suffering from low blood pressure because noni fruit has substances that can destroy blood clots that have become fat and can suppress high blood pressure, so for people who suffer from low blood pressure it should not be recommended to consume this plant.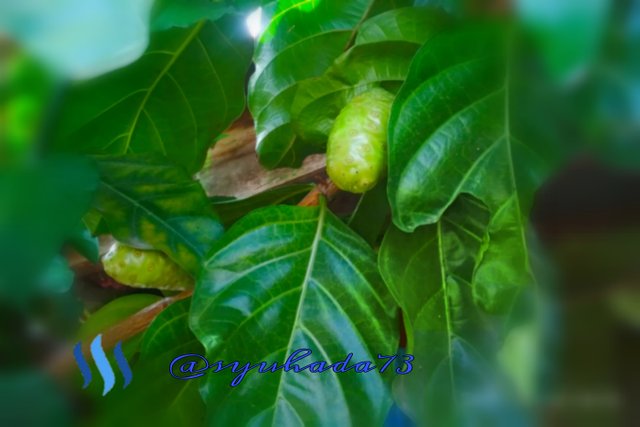 Noni plants are very many benefits for the health of the human body, especially diseases in the body not as an external medicine. However, in this era you do not need to bother processing it because it has been sold in drug stores that have been processed hygienically in the form of syrup, you just buy it at the drugstore in your city.
Fruit that is stored with many benefits and has a positive impact on humans is very rarely found in the yard, it always grows wild naturally in certain areas that are very rarely passed by humans. In general, it grows wild on its own from an innate bird or bat product that falls when eating. Then it will be found in the bush area or in a location where there is no human activity.
Thus a brief description of the noni plant that is rarely found in the location of people's homes and it is found in the forests or mountain foot villages. Hopefully what has been delivered is useful for all of us. Thank you very much.

---
| Clarification of | photos | writing |
| --- | --- | --- |
| Topik | Keumeudee Fruit #2 | #23 |
| Photografer | @syuhada73 | 5 sheets |
| Locations Photos | Pusong Lama, Aceh | Indonesia |
| Camera | MI Xiomi | Type 4X |
| Source of knowledge of writing | Own ideas | Adopt the opinions of fellow researchers |
---