Khaleda Zia did not meet the five teachers of Dhaka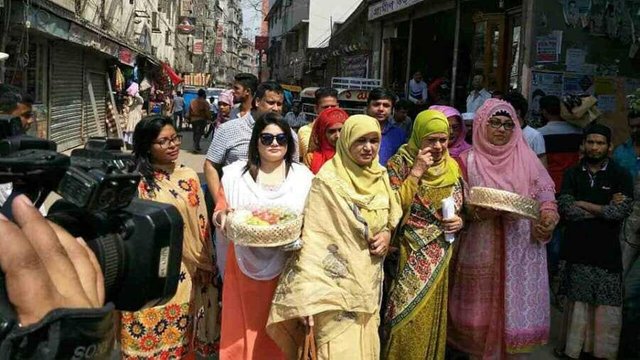 (Priyo.com) The five teachers of Dhaka University (DU) BNP have gone back from the prison after meeting with BNP chairperson Khaleda Zia in prison in Zia Orphanage Trust case.
On March 4, at 12 noon at 12 noon, Nazimuddin went to the prison to ask permission to meet Khaleda Zia, and they did not get it back.
Khaleda Zia adviser Professor Dr. Professor Dr. Tajmari S. Islam led Laila Noor Islam, Professor Nasrin, Professor Tahmina Akhter Tufi and Prof Sabrina Khaleda went to meet Zia. They returned with a fruit staple taken after a long wait.
After being convicted in the Zia Orphanage case on February 8, the leaders of different levels of BNP, leaders and associate organizations, leaders of BNP-backed professional association, Khaleda Zia, have been going to the jail gate with various types of food, including fruit for the last 24 days. But till now, none of Khaleda Zia's friends and family members had the opportunity to meet him.
On February 8, the court gave BNP chairperson Khaleda Zia five years imprisonment in the Zia Orphanage Trust case. BNP senior vice chairman Tarique Rahman, and the remaining five accused each for 10 years imprisonment and fined Tk 20.17 lakh.
Judge of the Special Judge's Court, held at the parade ground in Bakshibazar in the capital on Thursday. Akhtaruzzaman gave the verdict.
On September 5, 1993, Zia Orphanage Trust was formed to support orphans, then the then Prime Minister Khaleda Zia. On November 13 of the same year, two crore 33 lakh 33 thousand 500 rupees from his relief fund was given to the Zia Orphanage Trust.
The Anti Corruption Commission (ACC) filed a case against Ramna Police Station against six people including Khaleda Zia and Tarique Rahman, accusing the Zia Orphanage Trust of embezzling two crore 10 lakh 71 thousand 643 rupees on July 3, 2008. The other four are - Magura's former MP Kazi Salimul Haque Kamal, businessman Sharfuddin Ahmed, former secretary of the Prime Minister's Office Kamal Uddin Siddiqui and BNP founder Ziaur Rahman's nephew Mominur Rahman.
ACC deputy director Harun-ur-Rashid submitted charge-sheet against six people, including Khaleda Zia and Tareq Rahman on 5 August 2010.
Judge of the third Special Judge Court of Dhaka, Basudeb Roy, on March 19, 2014, filed charges against six accused. The trial began in this case.
The ACC on December 19 last year demanded the maximum punishment for all the accused including Khaleda Zia. After that the judge said on January 25. Akhtaruzzaman fixed the verdict on February 8.