Using esteem surfer after 1 year. This is what the brand new esteem surfer looks like!
Its been over an year now since I last used esteem surfer in my ubuntu machine. When I joined steem blockchain last year(2018) in the month of january all I was searching for was a good application that I could use in my android phone. That search ended up me finding this awesome app called @esteemapp on playstore. Back then,it was the only android as well as ios application available to use for posting. And their contribution towards the growth of this blockchain is inexplicable. Their encouragement programs used to be more attractive than what may new Dapps now do.
Back then it was a surprise to hear the announcement of a new desktop app coming from the same team that developed esteemapp. In no time I installed esteem surfer in my laptop and started using steem blockchain purely through it. Later on, I became quite inactive on steem blockchain and had to change my OS several times, which resulted in me completely forgetting about this app.
After such a long gap, today I again installed esteem surfer in my laptop and got surprised to find out so many amazing features, particularly a thing called 'claiming points'
The homepage of esteem surfer is entirely different from what you see on steemit.com. In steemit.com you have to scroll down 4 or 5 posts to see the actual posts of ones you follow. Whereas on esteem there are no such problems. in your feed you cannot see anything that you don't want to see. In my case the home page looked like this.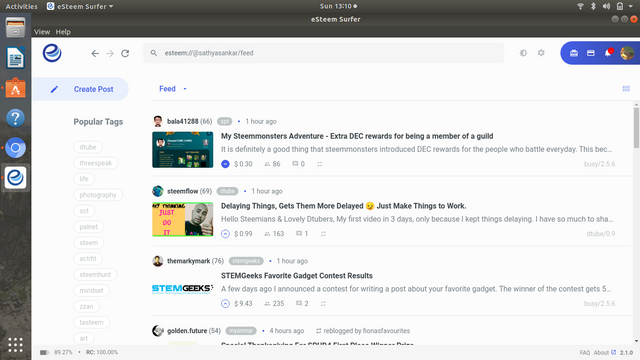 one interesting thing I found which seems to be a pretty new concept on esteem surfer is the option to earn and claim rewards according to the vigour with which you use the app.
Apart from being able to earn rewards in the traditionsl form of steem and steem power, here you will even be able to collect points based on your activity. As a login reward I got 100 point. later on this points can be increased by actively using esteem surfer. youll get 15 points for each post you make. you can earn points for commenting upvoting and kind of everything you do on esteem surfer. This appears to be a nice idea to attract users.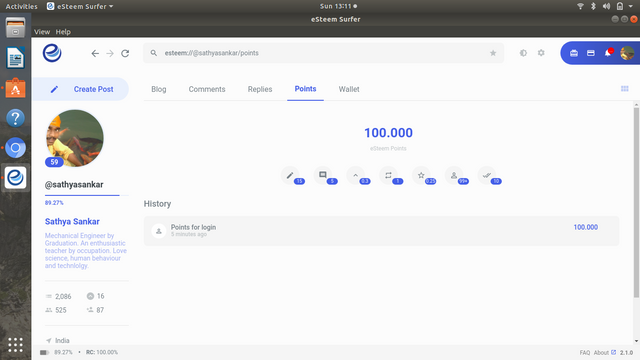 And another cool feature I found interesting is the option provided to change the background to night mode. one can use the app without straining their eyes by activating this night mode button located at the rtop right corner. This is how the interface looks once you click on the option to turn on night mode.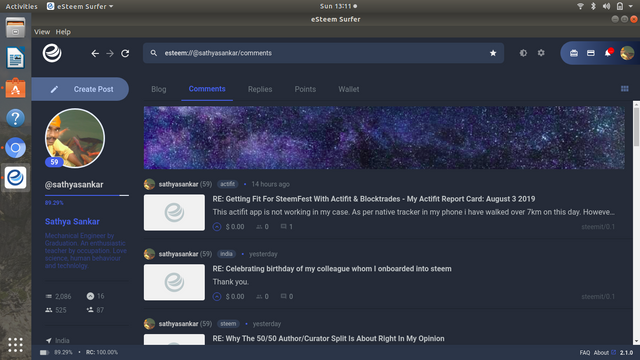 I never knew that one can use esteem surfer to transfer funds and all sort of such financial activities that we now currently depend on steemit.com.
Overall, this app is really great and cool. I gonna use it heavily hereafter. I recommend you all to download and use this app if you have computer.
All the best esteem surfer team!