Main Ingredients Oyong Bakso Beef Special Beef
200 grams of oyong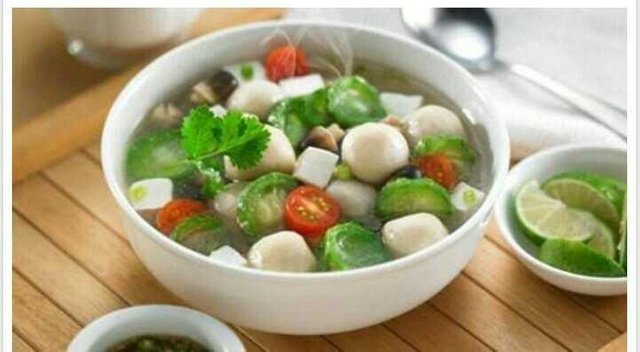 10 grains of beef meatballs
100 grams of vermicelli
Right amount of oil
700 ml of water
Oyong Bakso Cow Vegetable Specials
2 pieces of red onion
1 clove of garlic
1 stalk of pods
Sugar to taste
2 bay leaves
1 tomato
Salt to taste
How to Make Vegetable Oyong Bakso Beef Special Cow
How to prepare ingredients and vegetable seasoning Oyong Special Beef Cowboy
The first step is, peel oyong that you have prepared. Then cut round with a thickness of approximately 2 cm.
After that, thin slices of beef meatball that you have prepared.
Thin slices of onion and garlic.
Cut the tomatoes.
Finely slice onion pods.
How to Make Vegetable Oyong Special Beef Bakso
The first step in the cooking stage is preparing a frying pan or frying pan. Then keep the frying pan on the stove on. Put spices such as onion and garlic. Saute the onion until it withers and gives off a fragrant scent.
...