material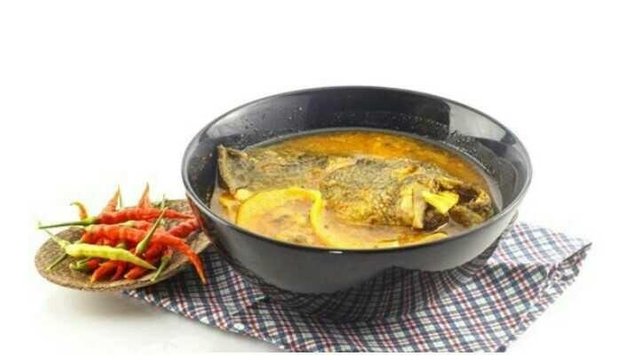 2 medium tuna fish (clean the dirt in the body, fry until dry outer skin but not to be hard)
2 tomatoes (split four)
9 cloves of onion (fried, mashed)
5 cloves of garlic (fried, mashed)
10 pieces of cayenne pepper (fried, puree)
2 large chillies (discarded, fried, puree)
Salt to taste)
Pepper (to taste, puree)
Sugar (to taste)
Powdered chicken broth (to taste)
4 cm ginger (crushing)
4 cm galangal (crushing)
4 cm turmeric (fried, puree)
250 ml thick coconut milk
2 orange leaves
How to make
Prepare all ingredients. Set aside a tuna that has been fried.
Fried onions, garlic, cayenne pepper, large chilies and turmeric.
Blend with all the spices that have been fried with salt, sugar, pepper and chicken powder.
Cook the seasoning with a little boiling water until the aroma is fragrant and the color of the water becomes yellow. Do not forget to include ginger and galangal.
Enter the tuna fish and also d ...