Queuing at the Counter/Antri di Loket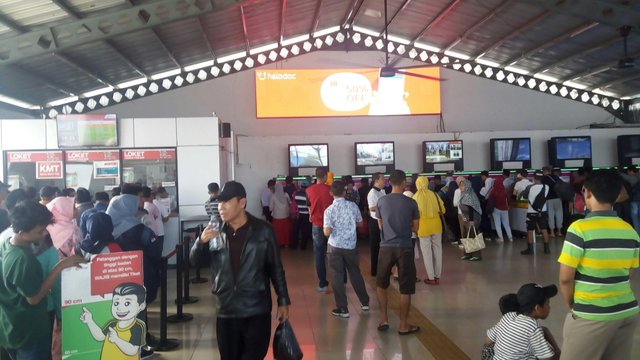 This is the atmosphere when I will go to the city of Bekasi by using a commuter train in the Bogor City Train Station. It seems that the atmosphere is very crowded and we have to queue to buy tickets for about 30 minutes, because we rarely ride commuter trains so we don't have an abudment to go directly to the station.
Ini suasana ketika saya akan berangkat ke kota Bekasi dengan menggunakan kereta komuter yang ada di Stasiun kereta Kota Bogor. Tampak suasananya sangat ramai dan untuk membeli tiketpun kita harus antri sampai kurang lebih 30 menit, maklum kita jarang sekali naik kereta komuter jadi tidak punya abudemen untuk langsung masuk ke stasiun.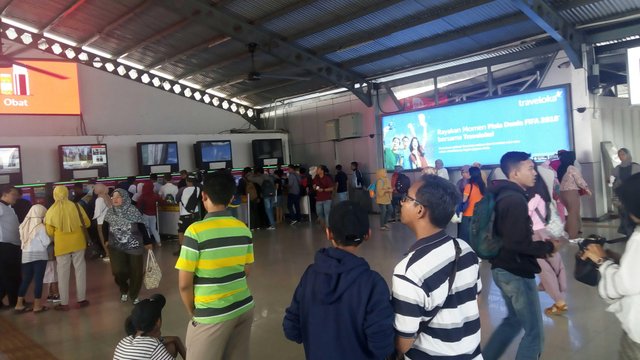 Actually there is a queue that is other than being skyrocketed that is queuing up at the machine, for those who already have a card to just refill it with a machine that accepts payment in cash, the queue is very long, because using a train is a relatively cheaper cost.
Sebenarnya ada antri yang lain selain diloket yaitu antri di mesin, bago yang sudah memiliki kartu tinggal isi ulang dengan mesin yang menerima pembayaran secara tunai, antriannya sangat luar biasa panjang, maklum menggunakan kereta adalah biaya ongkosnya yang relatif lebih murah.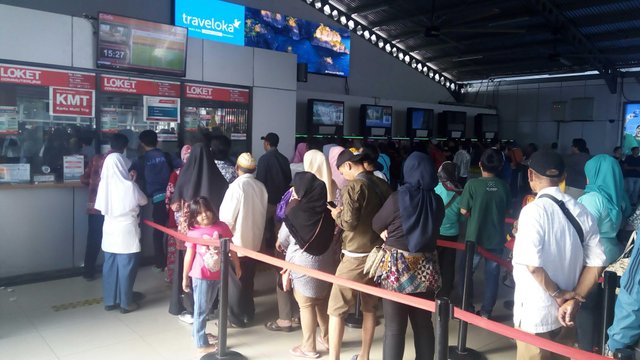 It seemed the lady in the queue was waiting in line to buy commuter train tickets, while my daughter's child was near his mamah while playing around the queue. This queue should be separated between men and women so it looks neater and orderly.
Tampak nyonya menir mengantri membeli tiket kereta komuter, sementara anak saya yang perempuan berada dekat mamahnya eambil bermain disekitar antrian. Seharusnya antrian ini dipisahkan antara pria dan wanita jadi kelihatan lebih rapih dan teratur.