the history of the tomb of the mother's tomb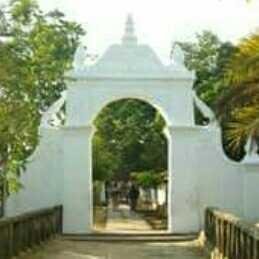 There are many stories that describe the love of a woman or a mother in Indonesia, one of which is the Tears of Queen Mother's Tomb in Madura. Believe me, you will appreciate the feelings of women after visiting this place.
Mother's Tear Mausoleum is located in Buduran Village, Arosbaya Sub-district, Bangkalan District. It is only 11 km from Bangkalan City, which becomes the entrance gate of Madura Island. You have to take dozens of steps to get to this tomb. Therefore, the Complex Graveyard is located on a small hilltop at a height of 30 meters.
Queen Mother is a woman named Sarifah Ambani. This descendant of Sunan Giri is a wife who is very obedient, obedient and loves her husband, King Cakraningrat. King Cakraningrat was a king who was highly respected and glorified by the Madurese community at the time. King Cakraningrat led Madura in 1624 on the orders of Sultan Agung of Mataram.
King Cakraningrat is known for his cleverness, fervor, and strong energy to become a leader. Thus, Sultan Agung Mataram needed the services of King Cakraningrat to help him build Mataram. Thus, Queen Mother is often left behind by her beloved husband. Feeling sadness hit the Queen Mother, although the wife of a king, but her heart is the heart of an ordinary woman. Almost day and night he was sad because his husband left his duty to Mataram.
Queen Mother chose to meditate when sadness shook her. In the hermitage, Queen Mother asked the Almighty to keep her husband healthy and for later seven derivatives could become a leader and ruler of Madura.
Until one day when King Cakraningrat returns to Madura, Queen Mother's feelings are flowering. In addition to happy because her husband came home, Queen Mother also told herself to be imprisoned and pray for seven descendants to become leader of Madura. However, instead of the joy or praise of King Cakraningrat, it was anger and disappointment. King Cakraningrat was annoyed that his wife only prayed for her seven derivatives who became kings. Because, King Cakraningrat wants all of his descendants to become the leader of Madura.
Hearing that Queen Mother was sad and felt guilty. When her husband returned to Mataram for duty, Queen Mother returned to her performances in Baduran Village. When the Queen Mother meditated constantly cried nonstop, until supposedly tears flooded his perapannya place. It continued until he died.
In the village of Buduran not only have the tomb of Queen Mother. There is also the tomb of King Madura from the 16th century up to the 19th century. It is said that the king's tomb is the seven derivatives of the Queen Mother. In addition to high historical values, the uniqueness of architectural art on the tomb and some stone carvings around the tomb make the atmosphere of this tomb so sacred and mystical. Not a few tourists come to this place for a pilgrimage tour.
By visiting the Queen Mother's Tomb, for the ladies will get a lesson about sacrifice and a sense of wisdom as a wife. And for men, you will learn more and appreciate more about the feelings and hearts of a woman.