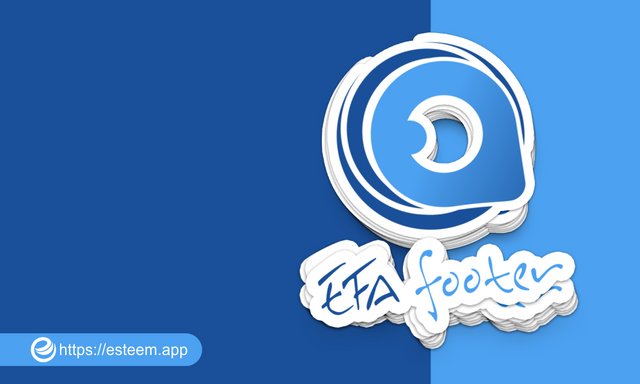 A few days ago I joined EFA as a mentor to teach while providing my experience of steemit. In this activity, many things can be done with community members, learning, asharing experiences.
EFA is (esteem for all) it is a community that runs under the auspices of esteem and EFA program to support eSteem and @good-karma as developers and owners of 3rd party apps on this platform.
The purpose of making this footer for easy in terms of know each member with its members and aims while promoting eSteem. This footer I design by linking the link to eSteem discord.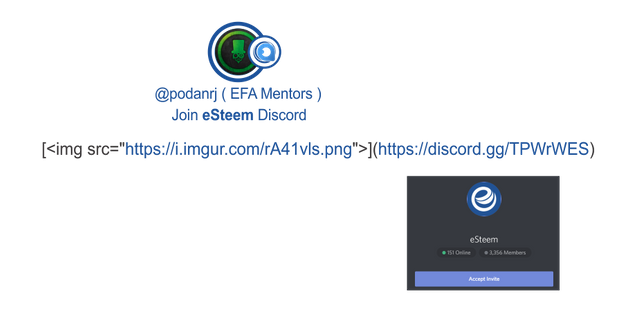 Currently, we have 14 people ready to be mentors in the development of EFA and eSteem. and has 100 more members.
Here is the Footer for Mentors and Members of EFA ( eSteem For ALL). Just copy the link as given, and paste it into the post.
[<img src="https://i.imgur.com/9CoXfX3.png">](https://discord.gg/TPWrWES)

| Mentor | FOOTER |
| --- | --- |
| @owner99 | |
| | [<img src="https://i.imgur.com/rA41vls.png">](https://discord.gg/TPWrWES) |
| @foways | |
| | [<img src="https://i.imgur.com/dg9BVG0.png">](https://discord.gg/TPWrWES) |
| @sogata | |
| | [<img src="https://i.imgur.com/IrgSNgF.png">](https://discord.gg/TPWrWES) |
| @yandot | |
| | [<img src="https://i.imgur.com/HTU5dMh.png">](https://discord.gg/TPWrWES) |
| @silvia | |
| | [<img src="https://i.imgur.com/2Y8VBck.png">](https://discord.gg/TPWrWES) |
| @dedyrendra | |
| | [<img src="https://i.imgur.com/vnJ7XDa.png">](https://discord.gg/TPWrWES) |
| @jubagarang | |
| | [<img src="https://i.imgur.com/HYebu8J.png">](https://discord.gg/TPWrWES) |
| @ jauharialz | |
| | [<img src="https://i.imgur.com/iBSC05W.png">](https://discord.gg/TPWrWES) |
| @dodybiureun | |
| | [<img src="https://i.imgur.com/KPedBpM.png">](https://discord.gg/TPWrWES) |
| @naufal | |
| | [<img src="https://i.imgur.com/BuRW5JO.png">](https://discord.gg/TPWrWES) |
| @steemvest17 | |
| | [<img src="https://i.imgur.com/kJ5ZEZM.png">](https://discord.gg/TPWrWES) |
| @helmybiereuen | |
| | [<img src="https://i.imgur.com/1pDPhtC.png">](https://discord.gg/TPWrWES) |
| @hamidi103 | |
| | [<img src="https://i.imgur.com/WNissCH.png">](https://discord.gg/TPWrWES) |
| @bahagia-arbi | |
| | [<img src="https://i.imgur.com/RRqNcSE.png">](https://discord.gg/TPWrWES) |

| Nama Akun | Footer |
| --- | --- |
| @sfa | |
| | [<img src="https://i.imgur.com/nYOUf8Q.png">](https://discord.gg/TPWrWES) |
| @samymubarraq | |
| | [<img src="https://i.imgur.com/5eIqW1s.png)">](https://discord.gg/TPWrWES) |
| @zulfa0109 | |
| | [<img src="https://i.imgur.com/uzJkPIA.png">](https://discord.gg/TPWrWES) |
| @mitaenda | |
| | [<img src="https://i.imgur.com/yvDj4gB.png">](https://discord.gg/TPWrWES) |
| @rikanurrizki | |
| | [<img src="https://i.imgur.com/FXMvi9O.png">](https://discord.gg/TPWrWES) |
| @sittishabir | |
| | [<img src="https://i.imgur.com/wAcBA8y.png">](https://discord.gg/TPWrWES) |
| @teukurival | |
| | [<img src="https://i.imgur.com/dOhwhAW.png">](https://discord.gg/TPWrWES) |
| @yeni | |
| | [<img src="https://i.imgur.com/tDyHZpt.png">](https://discord.gg/TPWrWES) |
| @misbahjuli | |
| | [<img src="https://i.imgur.com/VxFgVQe.png">](https://discord.gg/TPWrWES) |
| @firman | |
| | [<img src="https://i.imgur.com/kygcWpX.png">](https://discord.gg/TPWrWES) |
| @alhidayat | |
| | [<img src="https://i.imgur.com/yxIlq60.png">](https://discord.gg/TPWrWES) |
| @chandrayunita | |
| | [<img src="https://i.imgur.com/tUcrt8q.png">](https://discord.gg/TPWrWES) |
| @anzirpasai | |
| | [<img src="https://i.imgur.com/xxEno95.png">](https://discord.gg/TPWrWES) |
| @abughaisan83 | |
| | [<img src="https://i.imgur.com/mDeTE6E.png">](https://discord.gg/TPWrWES) |
| @rijal123 | |
| | [<img src="https://i.imgur.com/EMJLLV0.png">](https://discord.gg/TPWrWES) |
| @yundriana | |
| | [<img src="https://i.imgur.com/XGwmx4Y.png">](https://discord.gg/TPWrWES) |
| @munawircekwin | |
| | [<img src="https://i.imgur.com/pqgK2qK.png">](https://discord.gg/TPWrWES) |
| @syahrizaldawood | |
| | [<img src="https://i.imgur.com/LXjvYPD.png">](https://discord.gg/TPWrWES) |
| @ayuramona | |
| | [<img src="https://i.imgur.com/DA9PeQi.png">](https://discord.gg/TPWrWES) |
| @virtaco300cc | |
| | [<img src="https://i.imgur.com/IXKxb1k.png">](https://discord.gg/TPWrWES) |
| @sulaidasilva | |
| | [<img src="https://i.imgur.com/pxrsqj9.png">](https://discord.gg/TPWrWES) |
| @novalsyahputra | |
| | [<img src="https://i.imgur.com/X1x2zz4.png">](https://discord.gg/TPWrWES) |
| @rizqa | |
| | [<img src="https://i.imgur.com/xsbT8Oh.png">](https://discord.gg/TPWrWES) |
| @zaim4d1 | |
| | [<img src="https://i.imgur.com/xM9G46O.png">](https://discord.gg/TPWrWES) |
| @bahagia-arbi | |
| | [<img src="https://i.imgur.com/MAN2E0C.png">](https://discord.gg/TPWrWES) |
| @buddin2-43 | |
| | [<img src="https://i.imgur.com/hdGUjVQ.png">](https://discord.gg/TPWrWES) |
| @abdullahj | |
| | [<img src="https://i.imgur.com/4iNueLB.png">](https://discord.gg/TPWrWES) |
| @arrahman90 | |
| | [<img src="https://i.imgur.com/JPnDwlH.png">](https://discord.gg/TPWrWES) |
| @rauzaljm | |
| | [<img src="https://i.imgur.com/13Auoky.png">](https://discord.gg/TPWrWES) |