NATURAL FIRE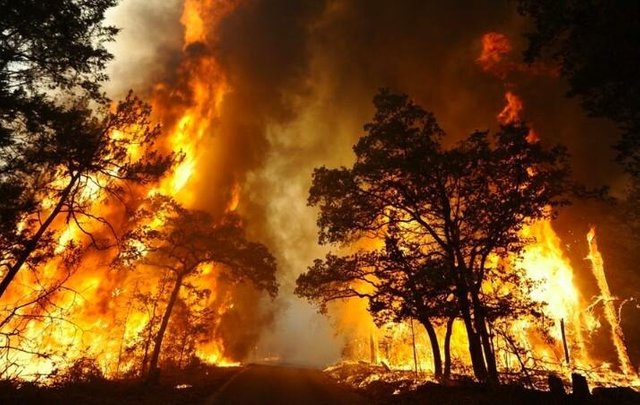 Hello steemian friends,
have my friends heard about natural fires, now I will discuss about some natural fire problems, basically natural fires have two causes, namely fires are caused by natural factors, and also human factor ... now I will explain first a fire about natural factors,
NATURAL FACTOR
causes the forest fires caused by natural factors triggered by various things, one of which is a lightning strike
Lightning strikes
lightning strikes can cause a fire that can grab twigs and branches ..
Extreme weather
extreme weather can also cause forest fires , such as the prolonged dry season that resulted in depletion of water stocks in nature, and the trees dried up, and gradually will burn due to the prolonged heat ...
Forest fires can also occur because of underground fire or commonly called with ground fire
Ground fire
can occur on gambu land t and steam generated can cause vegetation on the soil also burns, this type of fire only occurs during the prolonged dry season...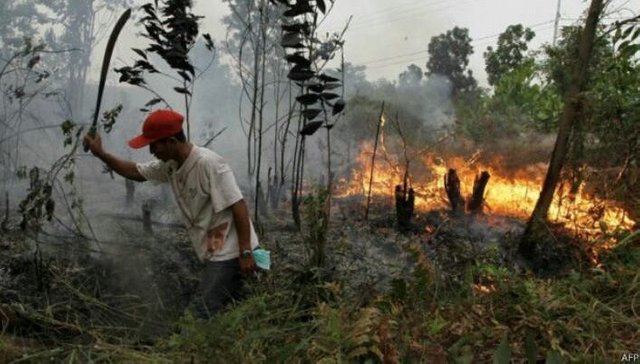 HUMAN FACTOR
forest fires caused by human activities not only can occur because of intentional factors but the accidental factors can trigger forest fires,
there are some things that can cause forest fires, such as:
throw cigarette nipples,
let the fire stay alive while in abandon,
and burn the garbage .....
fire disaster management should have started by knowing the main cause, then only need parties is obliged to provide socialization to the masses to remain cautious for the forest to stay awake. It is also accompanied by assertive actions from the police so as not to hesitate to give punishment to the unscrupulous person who can cause a fire.
This must be done so that the abuser in doing in the action.
Note : think first before acting
***** ________________________________________ *****
---
Halo teman teman steemian,
pernahkan teman teman mendengar tentang kebakaran alam, sekarang saya akan membahas tentang beberapa masalah kebakaran alam, pada dasarnya kebakaran alam memiliki dua penyebab, yaitu kebakaran yang disebabkah oke faktor alam, dan dan juga faktor manusia...
sekarang saya akan menjelaskan terlebih dahulu kebakaran tentang faktor alam,
FAKTOR ALAM
penyebab kebakaran hutan yang disebabkan oleh faktor alam dipicu oleh berbagai hal, salah satunya ialah sambaran petir,
Sambaran Petir
 Dapat menimbulkan api yang dapat menyambar ranting ranting dan dedaunan.. 

Cuaca Ektrim
   cuaca ekstrim juga dapat menimbulkankebakaran hutan, misalnya musim kemarau yang berkepanjangan yang mengakibatkan kehabisan stok air yang ada di alam, dan pohon pohonpun mengering, dan lambat laun akan terbakar karena panas yang berkepanjangan...

Kebakaran hutan juga bisa terjadi karna adanya kebakaran di bawah tanah atau biasa di sebut dengan ground fire
GROUNG FIRE
dapat terjadi pada lahan gambut dan uap panas yang ditimbulkan bisa menimbukan vegetasi i atas tanah juga ikut terbakar, kebakaran jenis ini hanya terjadi saat musim kemarau berkepanjangan dan
FAKTOR MANUSIA
kebakaran hutan yang diakibatkan oleh ulah manusia bukan hanya dapat terjadi karna faktor kesengajaan akan tetapi faktor kesengajaanpun dapat memicu kebakaran hutan,
ada beberapa hal yang dapat menimbulkan kebakaran hutan,
seperti:
-membuang puting rokok,
-membiarkan api unggun tetap hidup saat dilihat
-dan membakar sampah.
Penanggulangan bencana kebakaran memang sudah seharusnya di awali dengan mengetahui penyebab utamanya, selanjutnya hanya perlu pihakyangberwajib untuk memberikan sosialisasi kepada masyarat agar tetap berhati hati agar hutan tetap terjaga.Hal tersebut juga dibarengi tindakan tegas dari kepolisian agar tidak sungkan sungkan memberi hukuman kepada oknum oknum yang dapat menyebabkan kebakaran.
Hal ini harus dilakukan agar pelaku jera dalam dalam melakukan tindakannya...
Note:berfikir dulu sebelum bertindak