Have you ever stopped to wonder why non of us can survive alone? Why it is very important to communicate or interact with the world: "others"!?
Well, I have given it some thought and have come up with some importance or benefits of interacting with others. Some of these importance may not even sound new at all; some of them will sound great. But, I really do need you to digest this article by paying close attention to their importance.
The world is indeed a small village. No one can truly do without others. You need me; I need you. ~ProfLee
The Benefits of Interacting with People
There are numerous benefits of interacting with others. And here are a few, carefully chosen, reasons:
Interacting with people makes you interesting to be with: always remember this, people like those who like people. Therefore, if you are the type that interacts with people, they would find you interesting to be with!
Interacting with people opens doors to other opportunities: haven't you heard, or haven't we heard time and over again how someone got a good contract simply by just "interacting with others"? You are more likely to get opportunities when you get acquainted with others!
Interacting with people gives you an open door into their lives: the best way to get someone tell you about themselves is by interacting with them. When you interact with them, you get them to gossip themselves to you. Well, the main reason shouldn't be for gossip but for a better understanding! You stand a better chance of knowing someone you interact with than someone with whom you have no interaction of any sort.
Your life should not be lived for yourself alone. There's the need to give yourself away. ~A Song Writer
Link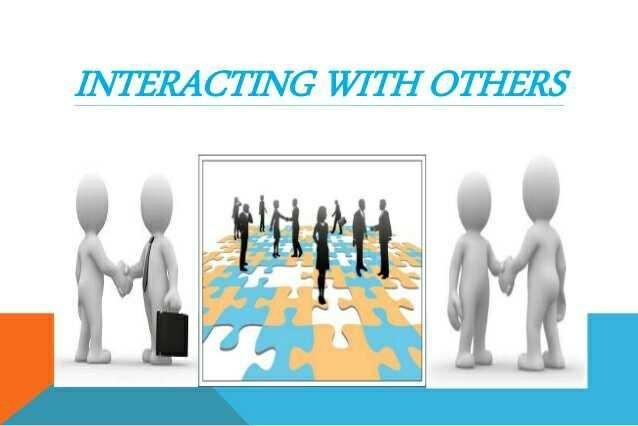 Some Last Words
You are not in this world to function alone. If that were the case, God would have made you alone. But, you are to relate and mingle with others. God made you with other people to relate with them!
I hope you had a good read!