Have you ever stopped to ask yourself this important question: "What is my weakness?"
Well, if I take some time to consider where I flop most times it would bw with patience. Yes, I have noticed that patience is something I keep working on. And, I chose the words: "Working on" rather carefully. Because it has always been something I have found I need to exercise more of. Someone said:
Please, relax; good things take time to come. Nothing just come like at the twinkle of an eye. You have to wait. ~Anonymous
But, if you take your time to consider it, you would as well find it to be true. You really do have to take some time out to wait.
We Wait Everyday
Everyday we wait....
You and I can't help but wait. We wait daily whether we like it or not.
We wait for our kids to catch up with us...
We wait to be attended to on the queue...
We wait to be promoted at work...
We wait for God to answer our prayers...
We wait for a visitor's arrival...
Link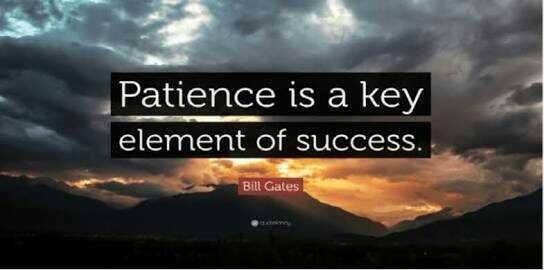 Apparently, we keep waiting. Waiting therefore, is a skill that we must learn to do since it is an inevitable act.
Learning to wait is an act we all must learn and understand. ~ProfLee
My Experience of Impatience
I clearly recall of how I embarrassed myself because of impatience....
This was how it happened:
The Story
One day, someone called me to go and teach her pastor's daughter. Well, my schedule was really tight but I accepted because the person who I was to standing on for was my then boss sister. So I couldn't have refused the offer, and besides it was just one time thing; not permanent.
Arriving the place, I didn't find the little girl: the kid or pupil I was to teach. I wasn't really ready to wait patiently, so i stood up from where I was sitting to ask again when she was supposed to return. But after some time, I stood up again to ask. I was agitated, really agitated. I was feeling uneasy.
After some time, the person could irritated by my pestering them so she asked me to leave which I did. So, I didn't do the job I went there for. When I thought of it again, I see how impatient I was then.
Conclusion
In conclusion, I would like you to know that impatience can really ruin our chances. But, we must learn the benefits of being patient in life!
Thanks for taking time to read!