Innercore Tokens Sale
Hello Steemians!!!
Today i am gonna share about innercore token sale.But first let me tell you about innercore project to those who haven't heard anything about this project.
Innercore is an "Infrastructure Platform for Decentralized Applications".Innercore provides an easy way to developers to deplay and power their DAPPs.
INNERCORE TOKEN SALE: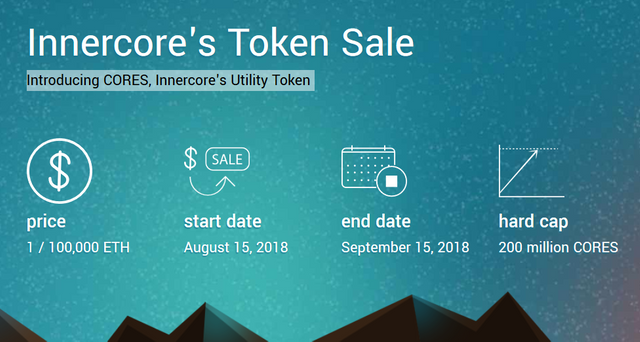 Innercore token sale has started from 15 august, 2018 at a price of 1 / 100,000 ETH and ends at September 15, 2018 with a hard cap of 200 million CORES.
Its price is too low .CORES power innercore platform's financial ecosystem. They store value and then transfer that value between the participants of this platform. After the token sale, the CORES value will fluctuate based on the demand for CORES, the price of ETH, and other factors.
For buying , token sale smart contract address is :
0x25DF2EdC10A16f05E579d127A902Cac6FdFf940E
Let me how to buy your tokens ,send ETH to innercore's token sale smart contract address and these tokens will be sent to your wallet at the end of tokens sale and please don't forget to send 200,000 gas in the transaction when you send Ethereum.It will refund the difference that will left useless.
The current token sale purchase requirements are:
• minimum buy: 10,000 CORES (0.1 ETH)
• maximum buy: 2,500,000 CORES (25 ETH)
• After purchasing token you must do a light KYC check and you must not be a resident of China or U.S
• Early participants will receive Bonus CORES of
10% on August 15th
7.5% upto August 20th
5% upto August 25th :
Bonus CORES along with the base tokens will be sent upon the close of the Token Sale, .
• Refer Token Sale Participants and Receive Reward ETH of
5% on 100,000+ CORES
7.5% on 1 million+ CORES
10% 5 million+ CORES
If you want to find more details about token sale, visit here
innercore token sale
I hope you guys will grap this opportunity and buy innercore's tokens without wasting time because innercore is designed to be different.


Do you use eSteem?
eSteem is a Mobile??& PC?? app. for Steem with great features. Also, you get Incentives posting through eSteem apps.
eSteem Spotlight; eSteem provides rewards for it top users in Leader Board with most Posts, Comments and Highest Earners.
---
![steemit-border](



This post was created using
Steem desktop client eSteem Surfer

If you like my article about token sale please