Work Productive Tip || Tip Bekerja Produktif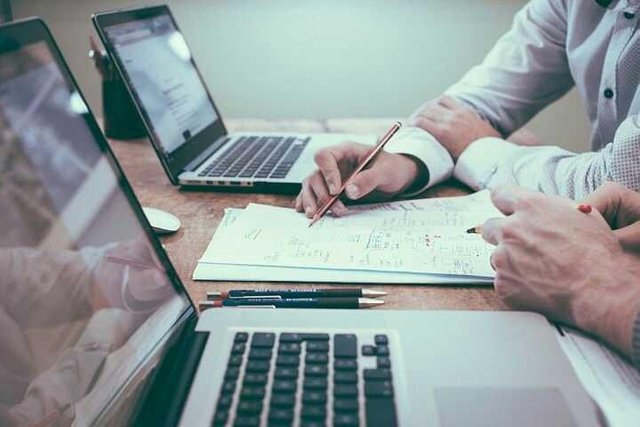 Source

Getting the best job is the dream of all who can satisfy themselves and give us financial stability. Although there is no magical way that can guarantee ourselves to get what we want.
So many people who become unemployed in this world this is caused by the lack of a world of work that requires their services, resulting in so many social deviations that we find. This is the task of the government to create jobs for those who are still unemployed.
But this time I will not discuss the issue of how to deal with unemployment is not. tonight I will discuss how we work productively.
So many people work in government institutions or private companies that work unproductively. This can happen, it's because many of them are busy with their own world to forget what is actually their job, so that they end up fired.
Well tonight I will share a few tips on how we work to be more productive.
Compile your work list
Get used to 15 minutes before going to bed list your tasks tomorrow. Determine which one is a priority.

Come early
Never underestimate your work, no matter what kind of work. Therefore, priority to work on time, coming early is very rare to find, if we come early will make our day better, avoid the jam and others.

Keep temptation
When you work less time surfing in cyberspace, engaging in social media, and never gossiping with your colleagues during work hours because it can eliminate our concentration.

Remember the purpose
If at number one you have to prepare a list of tasks at the time sebelun sleep, then at number four you must make your destination when entering the office. Create a list of goals that you want to accomplish today, so you will remember what you came to today's office.

Lunch out of the office
At mealtimes, make it a habit to eat outside of eating outside eating can reduce stress, refresh your mind, increase your creativity, and keep you focused on your work.
A few tips on how we work productively from me hopefully can help you in work. Let's work productively, because so many people out there need work then do not waste your work.

Mendapatkan pekerjaan yang terbaik adalah impian semua orang yang dapat memuaskan diri sendiri dan memberi kita kestabilan finansial. Meskipun tidak ada cara yang ajaib yang dapat menjamin diri kita untuk mendapatkan yang kita inginkan.
Begitu banyak orang yang menjadi pengangguran didunia ini hal ini di sebabkan karena kurangnya dunia pekerjaan yang membutuhkan jasa mereka, akibatnya begitu banyak penyimpangan sosial yang kita temukan. Hal ini merupakan tugas pemerintah untuk menciptakan lapangan pekerjaan untuk mereka yang masih menganggur.
Namun kali ini saya tidak akan membahas masalah bagaimana cara mengatasi pengangguran tidak. malam ini saya akan membahas bagaimana cara kita bekerja dengan produktif.
Begitu banyak orang yang bekerja di institusi pemerintah ataupun perusahaan swasta yang bekerja tidak produktif. Megapa hal ini bisa terjadi, itu semua dikarenakan banyak dari mereka sibuk dengan dunia mereka sendiri sehingga lupa apa yang sebenarnya tugas mereka, sehinga ujung-ujungnya mereka dipecat.
Nah malam ini saya akan berbagi sedikit tips bagaimana cara kita bekerja agar lebih produktif.
Susun daftar kerja anda
Biasakan 15 menit sebelum tidur susun daftar tugas anda esok hari. Tentukan mana yang menjadi prioritas.

Datang lebih awal
Jangan pernah sepelekan pekerjaan anda, apapun itu jenis pekerjaan. Maka dari itu utamakan bekerja tepat waktu, datang lebih awal merupakan hal yang sangat jarang kita temukan, padalah apabila kita datang lebih awal akan membuat hari kita lebih baik, terhindar dari macet dan lain-lain.

Jauhkan godaan
Pada saat anda bekerja kurangilah waktu berselancar di dunia maya, beraktifitas di media sosial, dan jangan pernah bergosip dengan teman kerja anda pada saat jam kerja karena hal tersebut dapat mehilangkan konsentrasi kita.

Ingat pada tujuan
Kalo pada nomor satu anda harus menyiapkan daftar tugas pada saat sebelun tidur, maka pada nomor empat anda harus membuat tujuan anda saat memasuki kantor. Buatla daftar tujuan yang anda ingin capai hari ini, sehingga anda akan teringat untuk apa anda datang ke kantor hari ini.

Makan siang di luar kantor
Pada saat jam makan biasakanlah untuk makan diluar dikarnakan makan diluar dapat mengurangi stres, menyegarkan pikiran, meningkatkan kreatifitas, dan membuat anda kembali fokus atas pekerjaan anda.
Sekian tips bagaimana cara kita bekerja produktif dari saya mudah-mudahan dapat membantu anda dalam bekerja. Ayoklah bekerja dengan produktif, karena begitu banyak orang diluar sana yang memerlukan pekerjaan maka dari itu jangan sia-siakan pekerjaan anda.

THANK FOR VISIT MY BLOG BEST REGARDS @muhammadarif22