Halal Dan Haram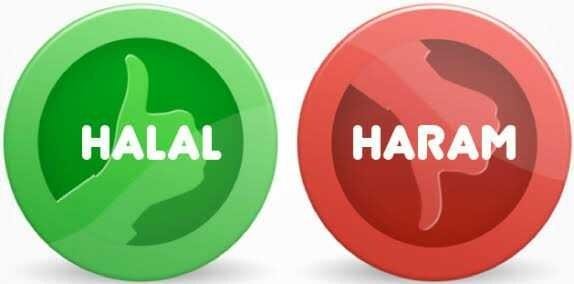 Source

Inggris
This time I will explain a little about the true meaning between Halal and Haram. Halal and Haram are two words that we often hear. In terms of meaning we already know that it has a meaning that is also far different.
Halal (allowed) are all objects or activities that have been permitted to be used or carried out, in the Islamic Religion the term Halal is more used to indicate "food" and "drink" that are permitted to be consumed according to Islamic teachings. The halal pair is thayyib which means 'good'. A food and drink is not only halal, but must be thayyib; whether it is suitable for consumption or not, or beneficial for health.
Haram is a legal status of an activity or condition of an object / food. Activities with the status of Haram Law or foods that are considered Haram are strictly prohibited. People who commit haram or eat unclean animals will get the consequences of sin.
Example:
Adultery.
Stealing.
Eating food or drinks that can damage the body. Like, eat danging pork, danging dogs, liquor.
Share with parents.
Eat Riba and others.
Like love, Halal and Haram issues will never end. As the development of this lazy era happens more and more, it will be even more interesting to learn.
Actually in the Islamic world halal food / drink is more than illicit food. Whether we see it from the point of view of the action or substance. However, along with the strength of the Capitalism system, the modern industrialization that uses the system justifies all means, and has the principle of Zero Wasting. In the industrial world almost all parts of a pig's body can be used as part of a very promising raw material.
But in Islam there are times when illicit goods are lit. In. A Muslim is forced to do what is forbidden because of the urge to maintain destruction for him.
Therefore Allah SWT said in Al-Quran in the letter Al-Baqarah verse 173 which means:
Anyone who is forced by circumstances and does not exceed the limit, then has no sin to him, because Allah is Forgiving and Merciful. "
We can interpret the letter above that: please eat eat Foods that are unclean when your condition is dying but Jangaan you eat too much, just to maintain your life.


Indonesia
Kali ini saya akan sedikit mejelaskan makna sebernarya antara Halal dan Haram. Halal Dan Haram adalah dua Kata yang sudah sering kita dengar. Dari segi makna kita sudah tau mempunyai Arti yang juga jauh berbeda.
Halal (diperbolehkan) adalah segala objek atau kegiatan yang sudah diizinkan untuk digunakan atau dilaksanakan, dalam Agama Islam Istilah Halal lebih digunakan menunjukkan "makanan" dan "minuman" yang diizinkan untuk dikonsumsi menurut ajaran Islam. Pasangan halal adalah thayyib yang berarti 'baik'. Suatu makanan dan minuman tidak hanya halal, tetapi harus thayyib; apakah layak dikonsumsi atau tidak, atau bermanfaatkah bagi kesehatan.
Haram adalah sebuah status hukum terhadap suatu aktivitas atau keadaan suatu benda / makanan. Aktivitas yang berstatus Hukum Haram atau makanan yang dianggap Haram adalah dilarang secara keras. Orang yang melakukan tindakan haram atau makan binatang haram ini akan mendapatkan konsekuensi berupa Dosa.
Contohnya:
Zina.
Mencuri.
Mengonsumsi makanan atau minuman yang dapat merusak tubuh. Seperti, makan danging babi, danging anjing, minuman keras.
Berdausa kepada kepada orang tua.
Makan Riba dan lain-lain.
Seperti halnya cinta, masalah Halal dan Haram tidak akan pernah ada habisnya. Seiring perkembangan zaman malasah ini makin banyak terjadi, bahkan akan lebih menarik untuk kita pelajari.
Sebenarnya dalam dunia Islam makanan/minuman halal lebih banyak dari makanan haram. Entah kita lihat dari sudut pandang perbuatan atau zatnya. Akan tetapi seiring kuatnya sistem Kapitalisme, termaksuk industrialisasi modern yang menggunakan sistem menghalalkan segala cara, dan berprinsip Zero Wasting. Dalam dunia industri hampir semua bagian tubuh babi dapat digunakan sebagai bagian bahan baku yang sangat menjanjikan.
Akan tetapi dalam islam ada waktunya barang haram dihalakan. Dalam. Seorang muslim dalam keadaan terpaksa diperkenankan melakukan yang haram karena dorongan keadaan supaya menjaga kebinasaan baginya manusia.
Oleh karena itu Allah SWT mengatakan dalam Al-Quran pada surat Al-Baqarah ayat 173 yang artinya:
Barangsiapa dalam keadaan terpaksa dengan tidak sengaja dan tidak melampaui batas, maka tiada berdosa atasnya, kerana sesungguhnya Allah Maha Pengampun dan Maha Belas-kasih."
Surat di atas dapat kita tafsirkan yang bahwa: silahkan engkau makan makan Makanan yang haram pada saat kondisinmu dalam keadaan sekarat tapi Jangaan engkau makan terlalu banyak, hanya sekedar untuk mepertahankan hidupmu saja.

THANK FOR VISIT MY BLOG BEST REGARDS @muhammadarif22