Unique Design House Type 45: Though Tiny, There Is Indoor Garden!
A variety of tropical plants can refresh the atmosphere. Put also a mini pot on the wall as decoration.


High windows and dominated natural color curtains make light can enter the house to the fullest. This is what makes you feel at home in the building.


Synthetic plants can be placed on the wall of the living room or in the room. Certainly the color of green makes fresh!


If you get bored with white wall paint, you can adopt soft colors like soft pale ocean breeze or light gray.


Mini size, living room can be put together with family room. Try also to choose most of the furniture with natural colors so that the house does not look too crowded.


To look more spacious, put all the furniture attached to the wall. So, you have a decent space in the middle of the room.


Use the glass door as a partition. In addition to light can freely enter, mini garden can be enjoyed from within the house.


Mini dining table can be placed in the corner. Also place a variety of live and synthetic plants as decoration.


So not hard to take care of, use artificial grass that is also decorated with rock garden. In addition to fresh, synthetic grass can be a substitute for the carpet when there is a family gathering.


Because you do not have a warehouse, you can put things in the empty space on the ceiling. Also hang the plant pot as a sweetener.


Use twinlite polycarbonate in the canopy section. Synthetic vines can also be inserted to reinforce the natural impression.


Polycarbonate twinlite material frees light into the house without excessive heat. Asiknya, mini parks can double as a clothesline area.


Also hang the cable lights along the pool area, if nightfall this place could be a romantic spot in the house.


Mini kitchen area located in the corner, select the color cabinet with white color so far from the impression of crowded.


Put a clear glass as a separator between the wc and shower. Vines can also be placed as a sweetener room.

Bonus: A very inspiring @hannibii minimalist house plan.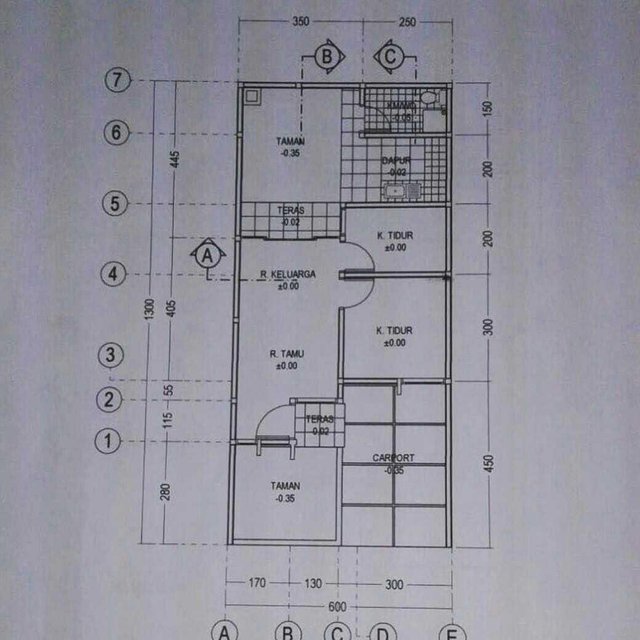 That is the inspiration that you can imitate or you apply for this unique 45 m type house design. How about the design of the house above? So pingin buy a house right?


If you like my posts please upvote, resteem and follow @ mirzaars010 to be able to see my next post in your feed.