God would supply all our needs
And my God shall supply every need of yours according to his
riches in glory in Christ Jesus" (Phil. 4:19).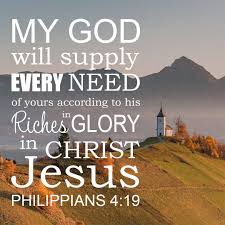 source
This indeed is a marvelous verse. The Corinthian believers were tight in giving, but the Philippian believers were generous. Time and again, the
Philippians had sent supply to the apostle Paul. Paul, in turn,
answered them that his God would supply all their needs according
to His riches in glory in Christ Jesus. Do you see the wonder of the
verse? Paul especially mentioned "my God," that is, the God of the
one who received the supply, for had not the Philippians sent money
to Paul? "My God shall supply"—He would supply those who had
supplied Paul. It was the God of the recipient of the gift supplying
the needs of the givers of the gift.