Family rules
These rules are more than intellectual furniture. Intellectual furniture means knowledge with little or no emotional impact. C 2 = A2 + B2 would be an example. This formula, the Pythagorean theorem for calculating the measurements of a right triangle, is something most of us learned in the sixth or seventh grade.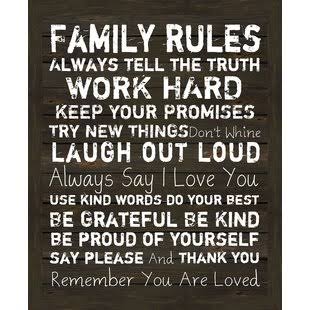 source
Trigonometry is very different from the childhood rules we are discussing here. The difference is the childhood rules were enforced. It doesn't matter what the methods were; they may have been extreme or not, ranging from brutal beatings to being unfavorably compared to a sibling to being sent to bed without supper. All the methods share an intense, negative emotional component. In other words, failure to follow the rules made you feel bad. This is the reason why when as adults we step outside these rules, the emotional memories of the
enforcement flood awareness. Family roles appear to be the most important aspect in the development of inherited purpose and, therefore, have an effect on adult behavior usually more significant than boundaries, bonds, or rules.