I learnt very early in life the art of identifying those who needs help and those who do not. The problem is that some people really require help without them knowing, and for this set of people its a problem rendering help to those who do not see the need to be helped. As you all know by now that most of my articles have a practical aspect to it. I don't just wake up and start writing, I pick up stories from happenings around me.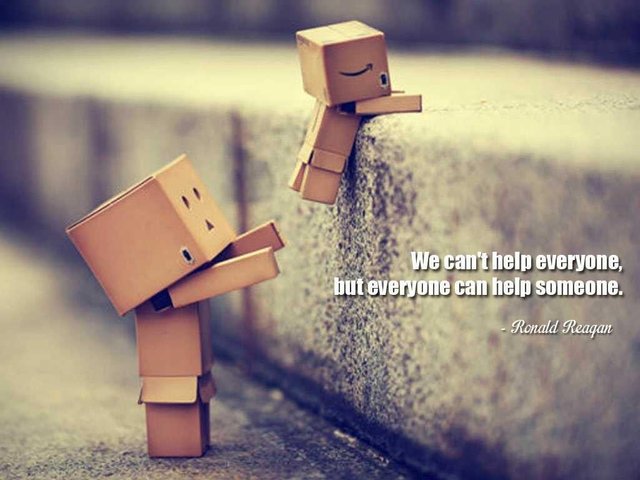 Lets gossip a bit
I have a Friend whose selflessness has gone beyond control. He is one I would term as being free spirited and cares a lot about others more than he does himself and it always got him into trouble. Early in our relationship I found out he always went out of His way to make others happy and this was a good thing but sometimes it got him into trouble. Sometimes he try to make up jokes to make one laugh when he finds that person in a sad mood, forgetting that most times people just need a break (they'll come around).
He has become so nice to a fault. He takes peoples problems like his own and has neglected his actual lives issues thereby he has lots of compounding issues. Recently he got insulted by a family who he tried to help without being sensitive to the fact that they do not want to be helped.
Here's one thing. You cannot fix everything that's wrong with others all by yourself. It becomes a problem when you take on other people's issues even the ones you should not even interfere in in the first place. Don't get it twisted helping is good but be sure you are sowing your seeds where it will grow, if not, its not worth it.
Life Lessons
sometimes we go out of our way to render help to someone who isn't in our place to help. Here's an illustration If Mr ken needs $5,000 and I only have $3,500 and Mr men approaches me to help him with $5,000. What I have capacity to help him with is $3,500 which is all I've got, its foolish to go out of my way to lend $1,500 more to give to Mr ken thereby running into dept I was trying to get someone out of.
always do your best and leave the rest.... leave the rest! not do your best and the rest.
People tend to want to play GOD in the lives of others and end up failing instead.
be careful to hold on firm when helping someone who's drowning, so they don't drag you along. JOSEF PIUS
You cannot help everyone but everyone can help someone. We can heal the world, one person at a time. Be Wise