Please Go Vote and Comment for Steem on Twitter e/Steemians
Once again, the STEEM blockchain is participating in a Twitter poll and in need of your support to win. No doubt STEEM posses a very large and active communities, with that I believe we are going to win this if only we join hands to making it a reality.
All you have to do is simple and requires less than one (1) minute of your time to complete this task. So friends, let show our love and support for the STEEM blockchain by making STEEM win.
What you need to do
👉🏽 Login to your Twitter account
👉🏽 Visit this Tweet
https://mobile.twitter.com/DonaldPorterJM/status/1093380919883231232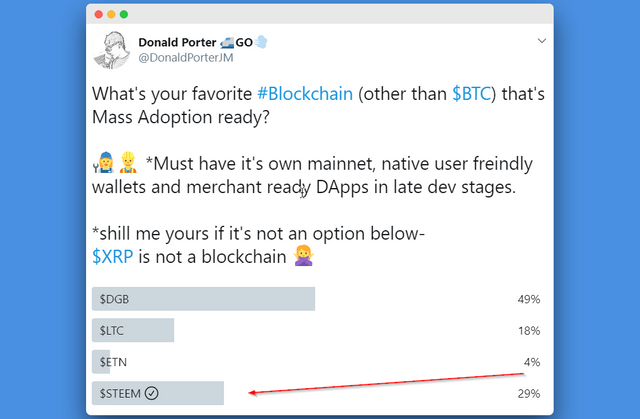 👉🏽 Vote for STEEM and reply with $STEEM and additional comment related to STEEM.
👉🏽 Like fellow Steemians tweet replies to create more awareness.
Both Steemians and Non-Steemians can help the STEEM blockchain win this poll. So don't forget to share with family and friends.