This thing changes my throught
Lunch time.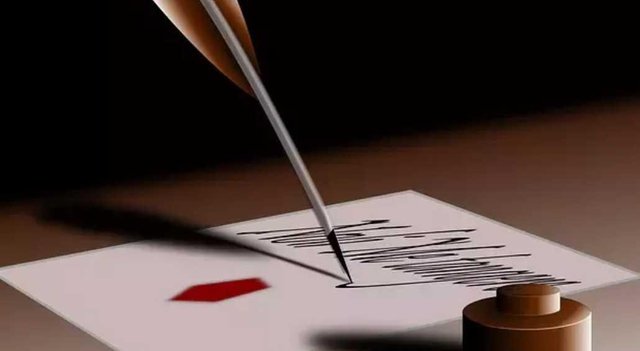 Source
Mom : Oye, why do you look dull today? Anything happened?
Me : Nah.
Mom : Tell me. Let me see if I could brighten you up.
Me : Um.. you know I write on Quora right?
Mom : Yea. I've heard from dad you write pretty decent there.
Me : Mm. Once or twice a year they give out a little "Top writer" title which comes with a quill and gets attached to one's profile. It's usually given to the writers who have expertise in something and also write well.
Mom : And you didn't get it this time.
Me : Mom, I've always looked up to that title. I know I write generic answers which is received well, and I don't really write on one particular topic to show my expertise. So technically, I'm not even qualified for it.
Mom: So what's bothering you?
Me : I lost my respect for it today.
Mom : Why?
Me : Something that I've always kept as a benchmark for good writing was just thrown out in the open this year. Apart from a hand full of them who really deserved it, most of them were subpar, wrote grey generic content, and it clearly brought down the value of the Quill. Atleast for me. There's no point now.
Mom : Who votes for the best writer? The people? Or does the company give it?
Me : The company chooses.
Mom : So there's nothing you can do about it. Why bother?
Me : I know. It's okay even if you're giving it out to everybody, but some of the writers who've contributed well weren't even considered. That hurt me a little. Actually a lot. They would not even feel like writing on Quora anymore. I've lost my respect for it too. I should move to blogging soon.
Mom : Listen, how many people read your content?
Me : More than 50,000 people. They click the follow button if they like ones content.
Mom : And they all clicked it because they think you deserve their attention right?
Me : Mmmm. I guess so.
Mom : Well, I think that's the biggest award one can get. A person's time. Maybe the writers who felt they deserved it but didn't get the title also feel the same. Maybe they'll all get over it because they've got their audience. That's what should keep you going. Your audience. You earned them. Don't let some silly title bog you down. Keep writing. It's your playground.
Me : Since when did you become so wise mom?
Mom : I was born that way ;)
Me : There's no salt in the curry. Also, the sambhar feels bland.
Mom : You move your ass to the kitchen in this hot Chennai summer and I'll tell you about it.
Well, for all my readers out there - Thank you. You're the best.