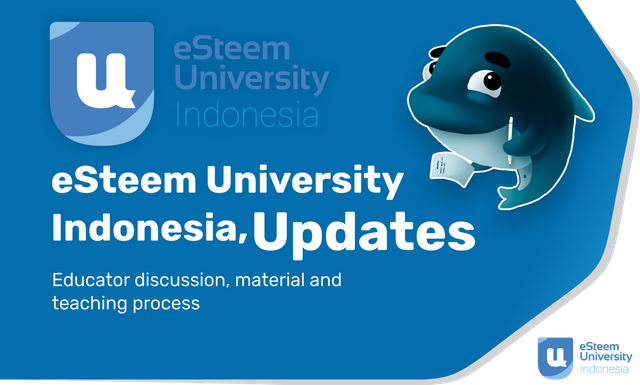 What is eSteem University?
eSteem University is a school or university forsteemit users, especially eSteemian. Those students will study there in accordance with their fields /fasion, this means like a real university in general, which has all departments or faculties that will be chosen by prospective students. The main goal of eSteem University is to start the education community. Everyone has the knowledge to share with others and we all want to learn and teach, grow together with our viewers.
Educator
An educator is an agent of change, an incentive for intelligence and a character educator. A qualified educator always develops his professionalism in full, an educator is a transformer, a driver that can change the quality of a person from a stone into a pearl. But for now @eu-id is made a little change in the educator's performance system, and even they Educator are those who are truly worthy who have been chosen by the eSteem University Indonesia team. The discussion is as follows :
Character
Here a number of students will be tested for their abilities regarding their characters here, which means they will find their identity as content creators in the mastered fields. As for this category will be controlled by @naufal & @alaikaabdullah. They (Educator) will find their characters here and will direct them according to the criteria or fields they master.
Writing, Blog & Photography
In this category a number of Educators such as @helmibireuen, @khanzaaulia, @ammachemist and @fararizky will receive those students who have been selected for their characteristics. And this is where they will be given the appropriate material or theory, they will be educated to be a good and right blogger or writer. As for this category will also be assisted by @owner99 and @anzirpasai.
Art, Layout, and Languages ​
For this category, there are a number of students who have received all the material or lectures from Educators, so here they will be tested for content feasibility, both neat writing layout, language delivered and so on. In essence, in this class their level will get real practice on professional posts. They will get some teaching practices such as how to use "Makrdown, HTML, and various supporting codes". The teachers responsible here are @podanrj, @dodybireuen, @naufal & @foways.
For now, eSteem University Indonesia only has 3 teaching categories and means such as Learning Classes or learning class levels. And until now eSteem University Indonesia is still led by @owner99, @yandot & @foways. As the main leader is @owner99 who is shaking.
Educators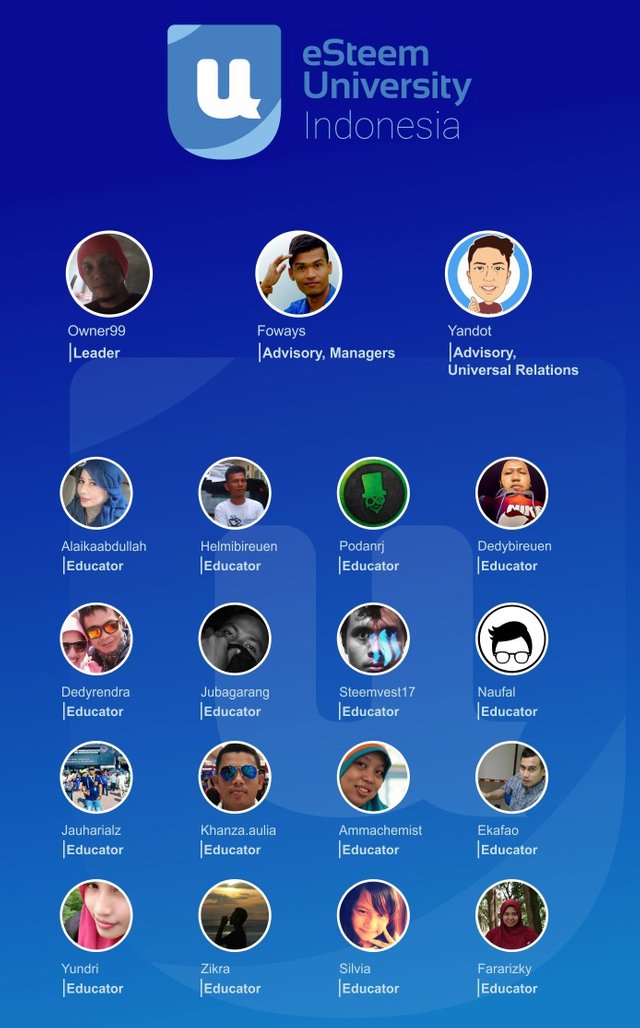 Their opinion about eSteem University Indonesia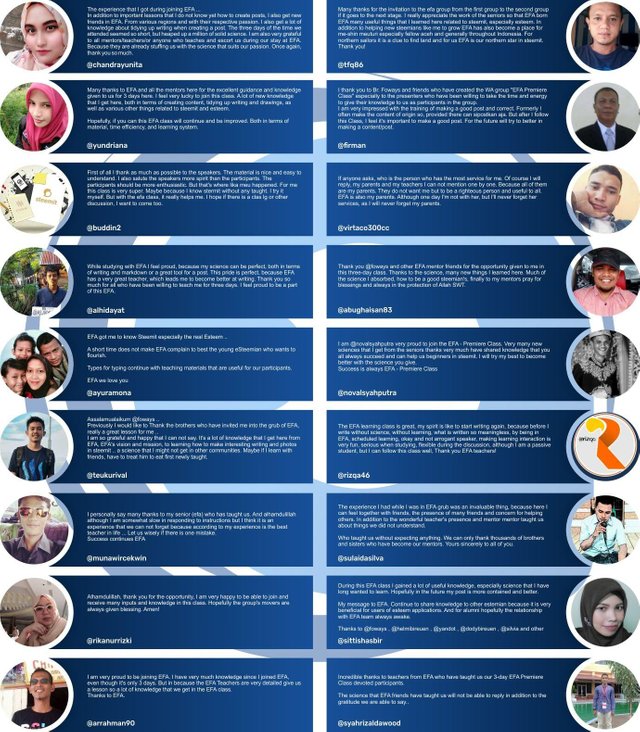 ---
If you have the knowledge and experience about Blockchain, bloggers, and Educators then you can contact us through Discord, and that is if you are interested in becoming an Educator for eSteem University Indonesia.
---

info@esteem.app
Homepage | GitHub | YouTube
Telegram | Discord
---