Notice how procrastinators think: "I'll do it tomorrow, next week, when it stops raining, when I feel like it, when am satisfy, when am feeling ready and so on."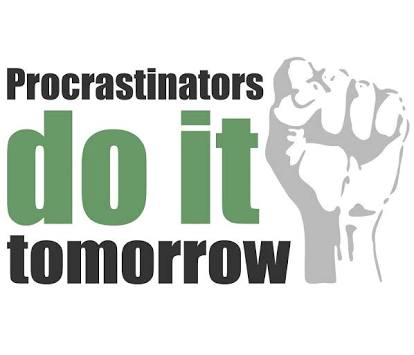 Source
The way you interpret your feelings determines how
they affect you. Procrastinators interpret fear to mean "STOP."
Now, in some cases this is not a bad interpretation of fear. If you
have $10,000 of credit card debt, then your fear of economic destitution can be useful when it tells you to stop this. However, procrastination implies the postponement of action toward something you
want to accomplish. Do not wait for fear to go away before acting.
Because feelings are genetically programmed responses to any challenges, we do not control them. Change your interpretation of fear
to "GET READY." Fear means you should get ready to meet the
challenge at hand.