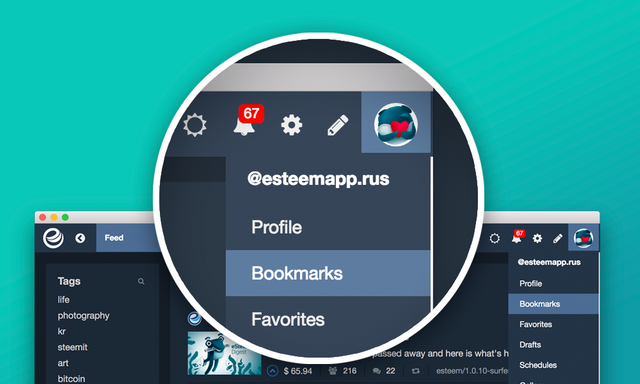 In this series of posts we are presenting current feature set (hidden gems) that eSteem Surfer is offering. Each post includes GIF animation with explanation to guide a reader through the process of using it. Note that these features are being improved constantly, you might notice some changes/additions in future releases.
In this video we will show you how to bookmark any post to save it for future reading and how to add users into your Favorites list for quick access.
Here is a transcript of the video above.
Bookmarks
Bookmarks is a list of articles on Steem blockchain you saved for any purpose for yourselve. It is synced across eSteem Mobile and eSteem Surfer. You can access them via top right userhead (avatar) menu on the top navigation bar.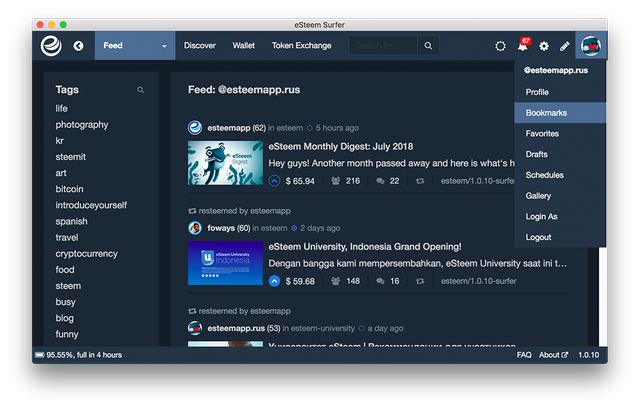 Open any post you want to save for future reading.
Press that blue ribbon icon empty inside. It will become filled with blue color inside notifying that bookmark is added.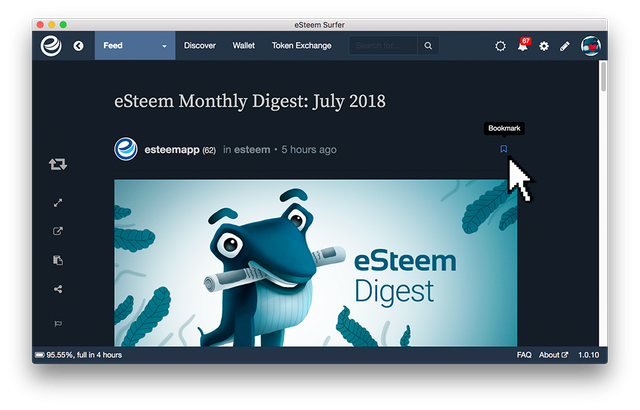 Now you can access it via Bookmarks menu.

Favorites
Favorites is similar to bookmarks but for user profiles. When you press heart icon inside any user profile this user is added to your Favorites list and synced across eSteem Mobile and eSteem Surfer.

Similarly to Bookmarks there is a list of your Favorites in same userhead menu which could save your time opening same user profiles again and again everyday.
Don't forget to subscribe to our YouTube channel and have a good day!
Other Surfer related Tips:
If you are looking for Feature set posts for eSteem Mobile, check the latest post here.

info@esteem.app
🌐eSteem.app | 👨‍💻GitHub | 📺YouTube
✍🏻 Telegram | 💬Discord

vote for witness
good-karma