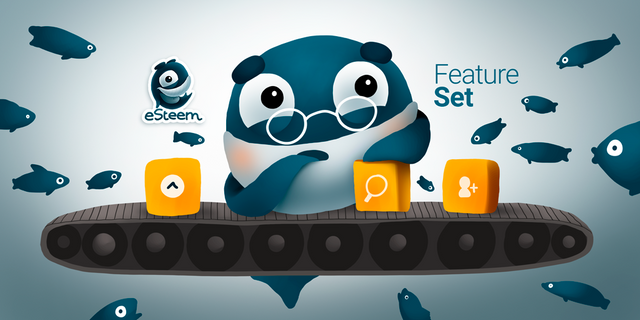 In this series of posts, We will present current feature set (hidden gems) that eSteem is offering. And details and usage of presented features. Each post will include gif animation and its explanation to guide reader through the process of using it. Note that these features are being improved constantly, you might notice some changes/addition in future releases.
What's eSteem
Learn more about project in eSteem FAQ post here.
Check out my blog @good-karma for more related posts and latest announcements.
Screencasts
Easily review picture gallery of any post with this Post Gallery feature. It allows you to take a deeper look on pictures or just enjoy them without any text disturbing you. Simply press the gallery icon button on the top right of your screen once you open your desired post as shown in the animation above.
Thank you to my brother @pjo for helping out with recording animations!
---
Download app today
| Google Play - Android - v1.6.0 | AppStore - iOS (iPhone, iPad) - v1.6.0 |
| --- | --- |
| | |
All future posts related to eSteem feature set will be tagged as #esteem-features.
---
Other Feature Sets (hidden gems) to learn more about app
Feature Set #1 (Login, Quick Look)
Feature Set #2 (Filter posts, Post details, Card/Compact view, Search)
Feature Set #3 (Submit posts, Read post, Read comments, Easy access)...
Feature Set #4 (Gallery View, Tags Surfing, Payout Types, Transfer Assets)
Feature Set #5 (Bookmarking, Draft, Followers, Market)
Feature Set #6 (Profile Details, Avatar Picture, Cover Picture, Profile Navigations)
Feature Set #7 (Select Image, My Images, Manage My Images, CopyPaste Image)
Feature Set #8 (Escrow Transfer, Escrow Search, Escrow Actions)
Feature Set #9 (Voters info, Day and Night mode)
Feature Set #10 (Change Language, Change Currency)
Feature Set #11 (Login with QR code, Add multiple accounts)
Feature Set #12 (Share moments, Select/Capture images)
Feature Set #13 (Voting slider, PIN code)

Feature Set #14 (Picture downloads, Picture filters/effects)
Feature Set #15 (Search tags/users, Filter with tags)
Feature Set #16 (Favorite posts, Template posts)
Feature Set #17 How to save on bandwidth usage? (Fetching images, Compact view)
Feature Set #18 Change Server when other becomes inaccessible!
eSteem Mobile Tips #19. Favorites
---

Feel free to reach out if you have questions, issues, suggestions, feature requests!


info@esteem.app | Website | Telegram | Twitter | Discord | Github

---
vote, reblog, follow, vote witness good-karma