Baking Ingredients: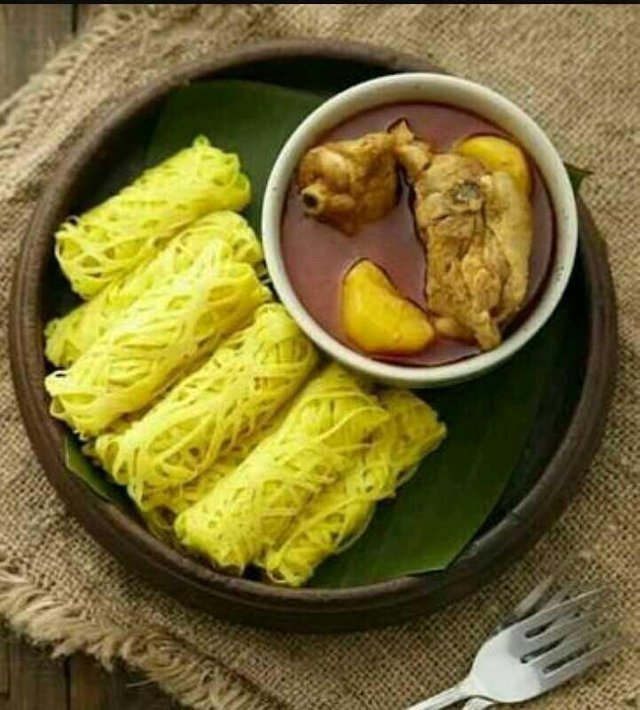 2 eggs (shake briefly)
250 gram flour
Salt 1/2 teaspoon
Water or water of 500 milli liter / cc
Oil 1 tablespoon or can also be replaced 1 tablespoon liquid butter
How To Make Baking Baking:
The first step mixed with flour, salt and eggs. stir well while pouring coconut milk in small increments until slippery. strain when necessary to remove small droplets. add oil, stir back until blended.
Next input the dough into a molding container of bread nets or plastic triangles. heat the sticky pan then spray the dough over with the movement to form a net / net / lace. wait until ripe for about 1 to 2 minutes using a small flame.
After that fold the mesh cake (can be a triangle shape or folding left and right side to the middle and rolled like Dadar Roll Cake Or even Egg Dadar Roll). lift, set aside.Chicken Curry ingredients:
Chicken 1 tail (cut into 8 parts or according to taste)
Lime juice or 1 tablespoon tamarind water
Salt 1 teaspoon
Onion 3 pieces (thinly sliced)
Cinnamon 3 centi meters
Flower mace 1 piece
Cloves 2 pieces (optional, can be used can not)
Cardamom 2 pieces
Lemongrass 1 stem (tossed)
Leaves greetings koja 5 pieces
coconut roaster 3 tablespoons (mashed)
500 milli liters of 1 1/2 coconut, (if you want more savory and savory we recommend using 700 mili liter of medium coconut milk and 300mili liter thick coconut milk)
Lengkuas 3 centi meters (crushed)
3 tablespoons oil (used for sauteing)
Spicy Spices Chicken Curry:
Baked Pancake 3 pieces
Coriander 1 tablespoon
Cumin 1 teaspoon (roasted)
1 tablespoon fennel
Noodle 1/8 fruit or 2 teaspoons nutmeg powder
10 red chili (if you like spicy please add according to taste)
Onion 8 grains
Garlic 5 cloves
Turmeric chopped 1 teaspoon or 2 teaspoon of turmeric powder
Ginger 5 centi meters / seruas fingers
Gar ...