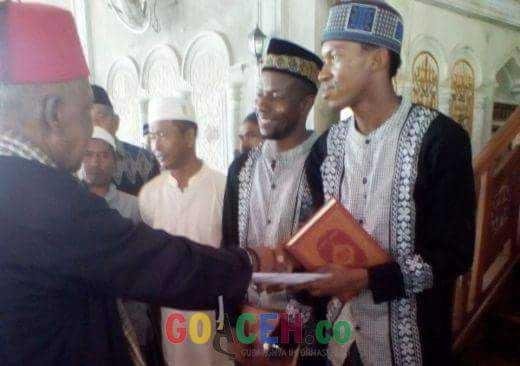 LHOKSUKON - One of three football players of the Ivory Coast U-21 pronounced two sentences of shahadah at Al Ikram Cot Murong Mosque, Dewantara Sub-District, North Aceh Regency, Aceh Province, after Friday prayers (2/2/2018) yesterday. Now they stay temporarily in North Aceh.
During the shahadah pronunciation there were two young Ivory Coasters, Kouassi Koffi Firmin (22) and Brou Kouakou Roni Ronald (19). While Roni claimed to be a Muslim since birth. While Firmin previously was a Catholic Christian and after embracing Islam, Muhammad Firman.
After the creed procession, Roni introduced himself to the mosque congregation and had a question and answer session with worshipers who understood English. Both were also given donations of cash and Qur'an prizes from the mosque and from local residents.
On that occasion, Firman and Roni were also accompanied by several residents of Jamuan, Banda Baro District, North Aceh. The banquet is now a temporary shelter for the three West Africans. One more Serge - not yet touched to embrace Islam.
"In the banquet there are three Ivory Coast football players, one named Serge and he has not been converted to Islam, all of them brought to Aceh by one of the local football managers named M Ikhwani, they have joined the selection with Persib Bandung," said one resident of the banquet , Fadli.
Not only that, according to Roni, Firman, and Serge to the citizens of the Dinner, they had defended Ivory Coast U-21 against Persib Bandung in Bandung, early August 2017.
GoAceh search to Persib.co.id site, Persib Bandung U-19 twice swallow defeat of Ivory Coast U-21 national team. Playing on August 1, Persib lost 1-2 and one goal was scored by Roni. Playing second on 10 August, Persib lost 2-4.
"They have good skills and we plan to offer them to League 2 clubs in Aceh like Persiraja Banda Aceh and Aceh United FC. This is an opportunity for them because, on February 9, Aceh United will conduct a trial with the local club Batuphat, Lhokseumawe. This guy is playing for the host club Batuphat Putra, "said Fadli.