Biryani means sweet taste. But biryani may be solder. The way to cook jhal biriyani may not be known to many. Let's know-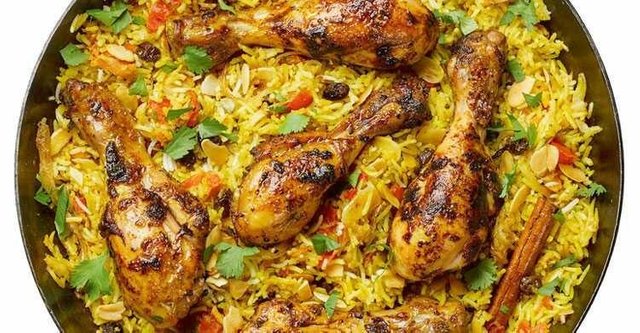 Ingredients: 1-1 kg chicken. Basmati or rice rice 1 kg 1 cup of onion. Adabata 2 tablespoons 2 tablespoons of garlic powder 3 tablespoons of biriyani spices 4 tablespoons of sour cream Chopped one tablespoon of turmeric powder Puttina papaya bata semi table-spoon 1 tablespoon of coriander leaves 1 tablespoon of chopped cornmeal. Mustard oil 1/4 cup 1/4 cup of soybean oil (for chicken cooking). 2 tablespoons of ghee Salt like taste. Water 15 cups (hot water). 3 pieces of cardamom Cinnamon 1
Procedure: Before cooking, rice should be washed in water and washed. 40 minutes for Basmati-rice and 20 minutes for polao rice. Heat oil, add onion and light brown powder, ginger and garlic paste in it and sieve it with salt. Give pieces of chicken pieces with peas yogurt, tomato, biryani spices, dried peppercorns and little water.
This time the water should be well boiled water to boil. Bhuna will have to be roasted. When the meat is cooked, stop the stove with coriander leaves and mint leaves and chopped-bowl. Because of the amount of rice it will take a little less water than its double, because the meat has the sugar.
For cooking the biriyani, the rice will be drained with mustard oil, cardamom and cinnamon in the pot. The rice will take 7,8 minutes to carry it. When the fine fried gram becomes fried, then the heat and salt should be given.
After 10 minutes of rice after boiling water, about 80 percent will be boiled, then cooked meat and sugar must be mixed with rice. Be careful, otherwise the moves will be broken. Cook for 25 minutes. Sprinkle ghee before leaving. Serve hot.