Such a different type of beer. - cool drink a recipe and a short story. Did you know it's healthy?
The beverage has an almost as long history as beer, but it was originally a by-product of the production of a golden beverage.
In the times of the People's Republic of Poland it was called "Polish Cola" and could be bought in the form of dried cereal extracts. At the beginning of the 1990s, when the era of carbonated beverages from large corporations was slowly emerging, it slowly pushed the basements out of the home cellars.
Fortunately, now he slowly returns to grace, and thanks to his refreshing and thirst-quenching qualities (who doesn't like to drink knowing that he will quench his thirst?) gains in popularity more and more quickly. You should also not forget, this beverage is rich in vitamins, a small vitamin bomb.
With yeast extracts as its composition, the beverage has a lot of B vitamins, which e.g. support the resistance to stress and proper functioning of the brain. It also has vitamin H, an important ingredient in the digestion of fat. It also improves the condition of the skin, nails and hair.
It also has:
Polifenol- is an organic chemical compound, occurs naturally in plants and reduces the risk of cardiovascular diseases or tumours.
The fact is, not only this drink can boast about the content - because beer or wine, tea also have this chemical compound.
I'll add some more substances: selenium, zinc.
Now it's a bit about taste and the possibility of eating.
Hops, bitter-bitter-sweet. It can be drunk as a non-alcoholic beer, so anyone can drink it, and the regulations allow to drink it by children or pregnant women, but it is recommended in moderation, because about 0.5% may have this drink.
And if we are already drinking a drink by children when we were young, what happened to us when our parents gave us just some refreshments, were we sick? (question for people who remember the times of the basement). Finally, if we have a fermentation process, then a small percentage must appear.
The recipe I will write is for ready-made dried 'podpiwka kujawskiego'.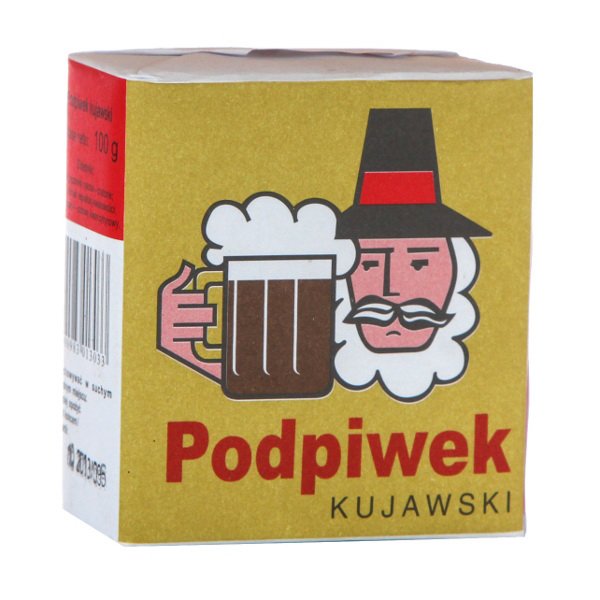 can be found in online shops. (I will also have to try preparing the drink next time from scratch.
Quite unnecessary talking, we go to the recipe.
That is the preparation.


We buy droughts, the Kujawski Bag content is 100g. I had to split it in half because I didn't have as many bottles and a pot with enough capacity to make 10 litres of drink, that's why I made 5 litres and I'll stick to this version.
Pour 5 litres of water into the pot, pour 50g of dehydrated water into the boiling water.
and cook for 10 minutes. After cooking, strain the contents of the pot through a small sieve and cool down to 40 degrees. After cooling, fill 1/2 glasses with boiled liquid, add 2.5 g of yeast and mix until the yeast dissolves. Pour into our cellar, add 250g-300g of sugar and mix. After mixing, pour it through a funnel into bottles which can be tightly closed, e.g. beer bottles grolsh and the like.


Close and leave for 3 to 5 days. The first day in a warm place, e.g. a room, and then to a cool place like a cellar. Best to consume within two weeks of preparation. Keep refrigerated for 2 to 3 days after opening.
Translated with www.DeepL.com/Translator