The people will decide who in the government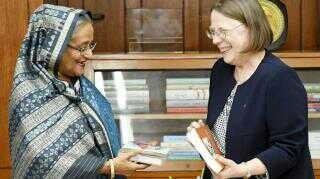 Prime Minister Sheikh Hasina reiterated her incredible trust in democracy He said, the people will decide who will form the government.
Prime Minister Sheikh Hasina said this while visiting French Ambassador Mary Anik Bouderin in a meeting on Tuesday evening at the Jatiya Sangsad Bhaban's office. The Prime Minister said her government has been working to institutionalize democracy; However, after the brutal killing of Father of the Nation in 1975, the history of Bangladesh is not pleasant at all.
In the briefing of reporters after the meeting, Press Secretary Ihsanul Karim said, "In addition to issues related to bilateral interests, Rohingya issues, climate change problems, mutual economic cooperation areas and power and energy sectors are also discussed. The Prime Minister said her government believes in democracy and hopes to participate in all the participative elections. All the elections held during his tenure have been free and fair and some of which have also been lost in the election of the ruling party.
Recalling the French support in the War of Liberation, the Prime Minister expressed satisfaction over the deep and warm bilateral relations between the two countries. In the meeting, the Prime Minister recalled various French cooperation including socio-economic sectors in Bangladesh, assuring all cooperation to the newly appointed French Ambassador while taking up the duties. He recalled the meeting with French President Emanuel Makho during a one-time planet summit in France last December.
The newly appointed French ambassador expressed solidarity with the war against terrorism and extremist extremism in Bangladesh at the time. In addition, he also expressed the interest of the French government about working together with Bangladesh in the issue of climate change. The French Ambassador also mentioned the continuation of French support to Bangladesh in providing food aid to Rohingyas and expansion of non-governmental organizations for their welfare.
Principal Secretary to the Prime Minister Najibur Rahman was present in the meeting.