Pertandingan terakhir, kualitas vs kemauan (Last match, quality vs will).!!!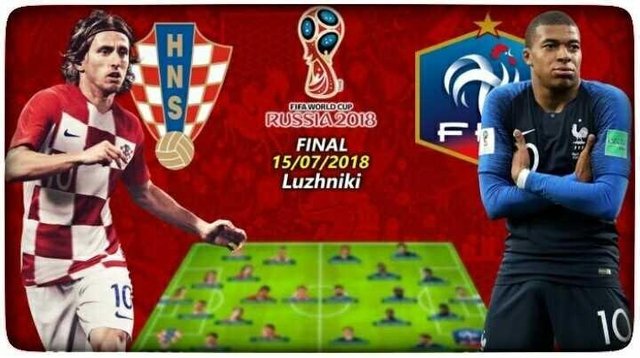 Hallo sahabat steemian berjumpa kembali di postingan @akunplagiat masih dalam seputaran piala dunia, ini akan jadi postingan terakhir untuk piala dunia karena malam nanti adalah penghujung yang menentukan juara prancis atau Kroasia.
Hallo steemian friend met again in post @akunplagiat still in seputaran world cup, this will be the last post for the world cup because tonight is the end of decisive champion french or croatian.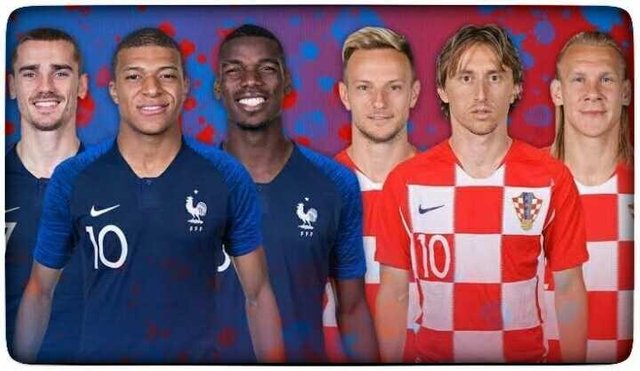 Prancis menjadi tim dengan keseluruhan pemain termahal di piala dunia kali ini memang sudah diprediksi akan menjadi kandidat juara, bukan tanpa alasan melihat pemain berkelas disemua lini, prancis membuktikan diri dengan pemain mahalnya mampu menumbangkan Argentina, Uruguay, serta generasi emas belgia.
France became a team with the most expensive players in the world cup this time it is predicted to be a champion candidate, not without reason to see class players in all lines, french proved themselves with expensive players able to subvert Argentina, Uruguay, and the generation of gold belgium.
Sedangkan di kubu lawan, Kroasia juga tidak bisa dipandang sebelah mata di fase grup Kroasia mampu menepih semua prediksi disaat mereka menumbangkan Argentina, dan mampu menyingkirkan kuda hitam denmark serta tuan rumah rusia walaupun lebih dulu ketinggalan gol semangat juang dan kepercayaan diri mereka mampu menyingkirkan kedua lawan tersebut lewat adu pinalti, tentu yang terakhir Inggris menjadi korban semangat juang modric cs, bahkan di pertandingan tersebut Kroasia sempat kebobolan terlebih dahulu.
While in the opposing camp, Croatia also can not be underestimated in the group phase of Croatia can memepih all predictions when they subvert Argentina, and able to get rid of Denmark's black horse and russian host despite the first goal behind the fighting spirit and confidence they are able to get rid of both opponents is a penalty shootout, of course the last England victim of struggling fight modric cs, even in the match Croatia had conceded first.
Pertandingan final ini bisa dikatakan pertandingan kualitas vs kemauan, kualitas untuk prancis dan kemauan untuk Kroasia, juara lama yang menanti gelar, atau juara baru yang mengukir gelar, tentu sangat dinantikan.
This final match can be said to be a match of quality vs. willpower, quality for french and a willingness to Croatia, the long-awaited title champion, or the new champion who carries the title, is certainly highly anticipated.