Ayam Goreng Lapis Emas (fried chicken with gold layers).!!!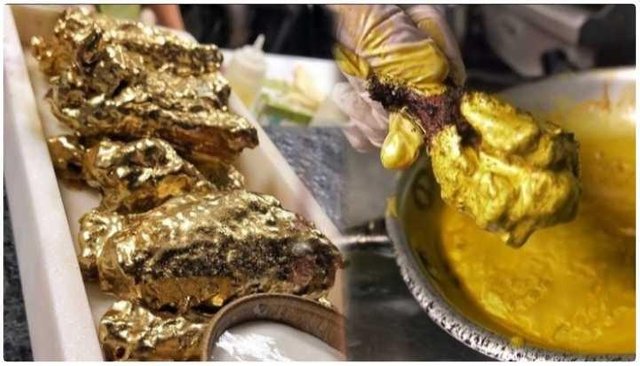 Hallo sahabat stemian dimanapun anda berada apa kabar anda hari ini saya harap ceria-ceria saja, kembali bersama saya admin @akunplagiat yang akan menyajikan hal unik dan menggelitik serta menambah wawasan sahabat stemian. Mari kita bahas kreasi unik kuliner "ayam goreng lapis emas"
Hallo stemian friend wherever you are, how are you today I hope cheerful, back with me admin @akunplagiat which will present unique and intriguing and add insight stemian friend. Let's discuss the unique culinary creations of "gold-fried chicken fried"
Anda pasti sudah mengenal ayam goreng atau ayam rendang, maupun ayam kampus 😂, namun kali ini kreasi kuliner yang berasal dari salah satu restoran di New York, Amerika Serikat yang menyajikan menu unik yang dinamakan FOODGOD 24K. Tentu menu ini beda dengan menu lainnya karena kilauan emas menutupi daging ayam yang lezat.
You must be familiar with fried chicken or chicken rendang, or chicken campus 😂, but this time the culinary creations coming from one restaurant in New York, United States that presents a unique menu called FOODGOD 24K. Of course this menu is different from other menus because the gold sparkle covering the chicken meat is delicious.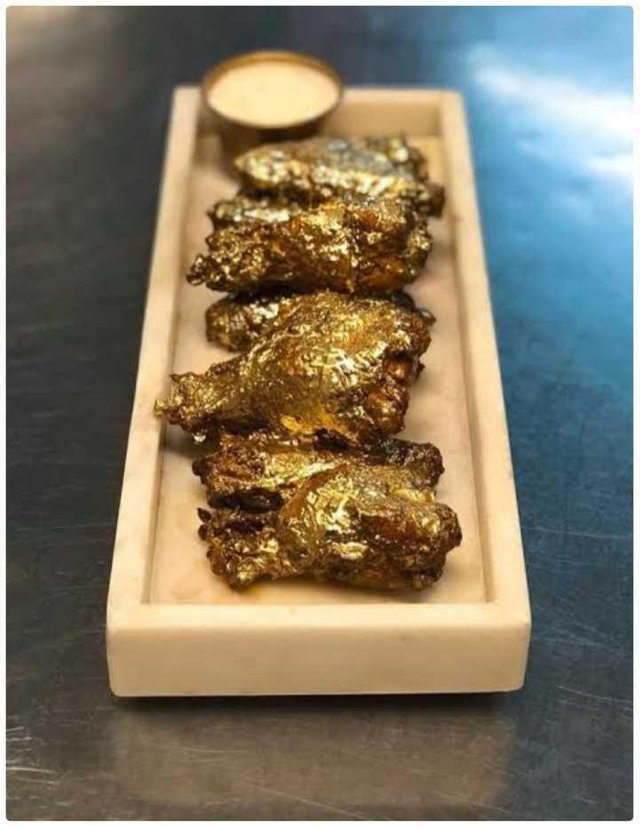 Cara membuatnya ayam berlapis emas ini, daging ayam direndam di adonan dan kemudian daging ayam digoreng terlebih dahulu. Setelah matang daging ayam goreng tersebut dilumuri dengan saus emas dan serpihan emas tentunya emas yang dipakai adalah emas untuk dikonsumsi yang pastinya aman untuk dimakan.
How to make this gold-plated chicken, chicken meat soaked in batter and then fried chicken meat first. Once cooked the fried chicken meat is smeared with gold sauce and gold flakes of course gold used is gold for consumption that is certainly safe to eat.
Untuk harganya saya kira tidak terlalu mahal untuk harga sebuah emas namun karena emasnya bisa dimakan mungkin ini beda dari emas yang dipakai oleh emak-emak ibu kos yang kaya punya kos melimpah dan ayam kampus yang banyak 😂. Untuk harga ada tiga varian pemesanan dan harganya juga variasi , untuk 10 potong anda harus merogoh dompet 30$ sama dengan Rp.450, atau paket jumbo 50 potong ayam dengan harga 1000$ sekisar 1.5 juta rupiah.
For the price I think is not too expensive for the price of a gold but because of its gold can be eaten may be different from the gold used by emak-emak rich mother kos has abundant boarding and many campus chickens 😂. For the price there are three variants of the order and the price is also variations, for 10 pieces you have to reach $ 30 wallet equal to Rp.450, or package jumbo 50 pieces of chicken with the price of 1000 $ around 1.5 million rupiah.
Gimana sahabat stemian mau mencobanya?,, Kalau admin daging ayam dibalur tepung aja udah mewah, apa lagi ayam dibalur emas ya admin lihat saja dan tidak dimakan bahkan dijadiin sovenir pajangan 😂 sekian postingan sederhana @akunplagiat, jika ada kata yang menyinggung perasaan maafkan saya, Sampai jumpa di postingan lainnya, terimakasih 🤡.
How a friend stemian want to try it ?,, If the chicken meat admin dibalur flour aja already luxurious, what else chicken dibalur gold ya see it and not eaten even dijadiin souvenir display 😂 sekian simple post @akunplagiat, if there is a word that offends my forgiveness, See you in other posts, thanks 🤡.